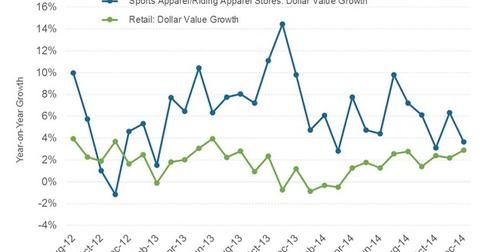 Outdoor And Action Sports: A Compelling Investor Category
By Phalguni Soni

Mar. 6 2015, Updated 9:05 a.m. ET
VF Corporation outperformers
Outdoor and Action Sports is VF Corporation's (VFC) largest segment, accounting for ~59% of revenues, or $7.2 billion, in 2014. Its growth rate outpaced VFC's overall revenue growth rate in 2014, at ~13% versus ~8% for the company overall.
Article continues below advertisement
Competitive analysis
Sportswear firms have been exhibiting above-category growth for several months now. Companies including VF Corporation (VFC), NIKE (NKE), Under Armour (UA), and Columbia Sportswear (COLM) are showing healthy above-category growth, beating revenue estimates in their respective last-reported fiscal quarters. Cabela's (CAB), which retails outdoor sports merchandise, also beat consensus Wall Street revenue estimates in its last financial release.
VFC's Outdoor and Action Sports segment features more products and caters to a wider range of geographies. It's also way larger than UA, CAB, and COLM. Total revenues for UA, CAB, and COLM were $3.1 billion, $3.6 billion, and $2.1 billion, respectively, last fiscal. In comparison, VFC's big three sportswear brands The North Face, Vans, and Timberland, taken together, clocked revenues in excess of $6 billion in 2014.
NIKE (NKE), however, has a much larger revenue base, clocking revenues of $29.8 billion in the last twelve months. Meanwhile, most of NIKE's (NKE) revenues, ~57%, come from footwear. VFC, UA, and COLM are primarily apparel players.
NIKE (NKE), Under Armour (UA), and VF Corporation (VFC) make up ~2.9%, ~0.5% and ~1.2%, respectively, of the SPDR Consumer Discretionary Select Sector ETF (XLY). As of February 25, 2015, they also combined to make up ~0.6% of the SPDR S&P 500 ETF Trust (SPY).