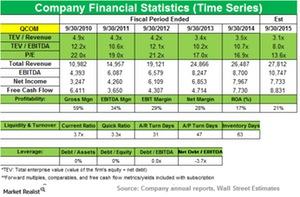 Teachers fund adds a new stake in Qualcomm
Teachers and Qualcomm
Article continues below advertisement
Overview of Qualcomm
Qualcomm is a leading developer and innovator of advanced wireless technology products and services. Qualcomm Incorporated includes Qualcomm's licensing business, QTL. It also includes the vast majority of its patent portfolio.
The company designs, manufactures, and markets digital communication products and services. The products and services are based on code division multiple access, or CDMA, orthogonal frequency-division multiple access, or OFDMA, and other technologies.
Qualcomm's products mainly consist of integrated circuits—also known as chips or chipsets. The products also consist of system software used in mobile devices and wireless networks.
The company has three reportable segments. It conducts business primarily through two segments—QCT (Qualcomm CDMA Technologies) and QTL (Qualcomm Technology Licensing). The third segment, QSI (Qualcomm Strategic Initiatives), makes strategic investments.
Qualcom's LTE market share
Based on data from research firm Strategy Analytics, Qualcomm continued to lead the baseband market in 3Q 2014 with a 64% revenue share, followed by MediaTek and Spreadtrum. Other players in the space include Samsung (SSNLF), Intel (INTC), and Marvell (MRVL).
Strategy Analytics adds that, mainly because of high competition, Qualcomm's LTE baseband volume share fell to less than 80% in 3Q 2014, down from 95% in 3Q 2013. Its report said, "Qualcomm still has a significant edge in terms of product roadmap and design-wins."
Article continues below advertisement
Qualcomm to pay fine to settle antitrust investigation in China
Qualcomm recently agreed to pay a $975 million fine to settle an antitrust investigation in China. It said it will offer licenses for its current 3G and 4G essential Chinese patents separately from licenses for its other patents. It will also offer patent lists during the negotiation process.
What's more, South Korea's Fair Trade Commission recently opened an investigation into the company over antitrust regulations. The U.S. Federal Trade Commission as well as antitrust agencies in Europe are also probing Qualcomm.
Fiscal 1Q15 results beat expectations, 2015 guidance revised to factor in fine
Qualcomm posted fiscal 1Q15 revenue that was up 7% to $7.1 billion. Net income grew 5% to $2 billion. GAAP (generally accepted accounting principles) diluted earnings per share came to $1.17.
Though results beat expectations, Qualcomm lowered its outlook for its semiconductor business, QCT, for the second half of fiscal 2015. This is a result of "revised expectations related to OEM mix, sales to a large customer and heightened competition in China."
The company also recently updated its guidance for fiscal year 2015. It expects revenues of $26.3 billion to $28 billion, up slightly from the prior guidance range of $26 billion to $28 billion. GAAP diluted earnings per share is estimated to be $3.56 to $3.76—factoring in the $975 million charge, or $0.58 per share, related to the fine. Previously, the company had guided for $4.04 to $4.34.
The next part of this series will discuss a new Teachers position in TRW Automotive Holdings.