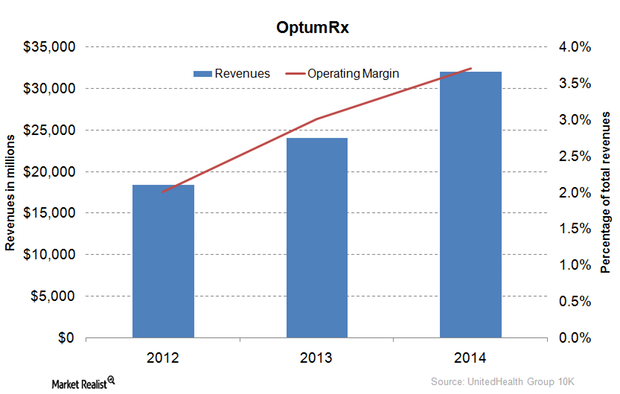 OptumRx manages UNH's pharmacy benefit management business
OptumRx
UnitedHealth Group's OptumRx segment provides PBM (pharmacy benefit management) services to more than 30 million Americans. It manages about $40 billion in pharmaceutical spending annually. OptumRx processes and pays out prescription drug claims for the majority of UnitedHealth Group's members.
Although UnitedHealth Group (UNH) earns substantial revenue from its OptumRx segment, the PBM business earns low operating margins. The private health insurance industry (XLV) depends on the PBM business mainly to reduce the costs related to expensive prescription drugs. It contracts with retail pharmacies to negotiate discounts. It contracts with operating mail-order pharmacies that avoid human intervention.
Article continues below advertisement
PBM revenue model
UnitedHealth Group earns revenue from products sold through a contracted network of retail pharmacies, home delivery, and specialty pharmacy services. It also earns revenue from administrative services like claims processing, formulary design, and management.
Every PBM maintains a formulary—a list of prescription drugs covered by a health plan. The formulary is divided in two, three, or four tiers. The drugs in each tier increase successively in prices. They increase from the least costly generic drugs, to preferred brand name drugs, and finally to very expensive non-preferred brand name drugs. Health insurance carriers attempt to reduce their expenses by favoring less expensive drugs.
Rebates and discounts
Manufacturer discounts and rebates are a major source of PBM revenue. PBMs negotiate for discounts on the AWP (average wholesale price) of generic and brand drugs. It's the average price that drugs are purchased at on the wholesale level with the drug manufacturers. In exchange, the manufacturers demand the inclusion of the drug in the health plan's formulary. This guarantees increased sales.
Discounts are offered to PBMs with mail-order pharmacies. They can store and control the distribution of the drugs. However, rebates are only offered on branded drugs. They include access and performance rebate. The former given in case the drug is included as a preferred drug in the formulary. The latter is given for an increase in market share of the drug.
PBM adopts differential contracting or pricing, where only part of the discounts and rebates is passed to plan enrollees. The rest is retained as commission for providing middle men services.
In addition, health insurance companies' PBMs—like Humana (HUM), Aetna (AET), UnitedHealth Group, and Cigna (CI)—also earn revenue from dispensing fees collected for filling prescriptions and customer co-payments for drugs dispensed through the company's mail-order pharmacy.