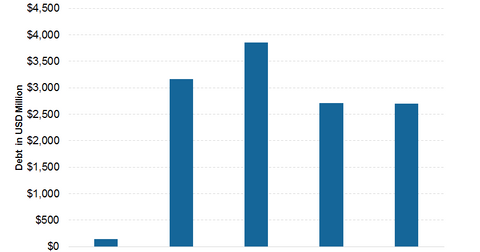 All You Need to Know about Cliffs' Debt Exchange Offer
By Anuradha Garg

Updated
Exchange offer details
On February 26, 2015, Cliffs Natural Resources (CLF) announced exchange offers for four of its five series of senior unsecured notes outstanding at the end of 4Q14.
The exchange offer was for $750 million in aggregate principal amount of newly issued 7.75% senior secured notes due in 2020 for the existing notes at discounted rates. There was a $50 early tender premium for every $1,000 of principal amount tendered. On March 5, 2015, the company amended the previously announced offer to increase the principal amount to $1.25 billion from $750 million earlier.
Article continues below advertisement
On March 11, 2015, Cliffs announced the results to date of its pending private offers to exchange. The company said a total of approximately $635 million principal amount of existing notes had been tendered in the exchange offers. Cliffs also announced that the early tender date for the exchange offers has been extended to March 25, 2015, from the earlier date of March 11, 2015.
New notes to be secured by liens
The notes to be offered in exchange for existing notes will be secured by the following:
second liens on substantially all of the company's assets and the assets of the subsidiary guarantors, except for the asset-backed credit facility (or ABL) collateral
third liens on the ABL collateral
Any existing notes that remain outstanding after the exchange offers will be subordinated to the subsidiary guarantees of the new notes. The existing notes are unsecured and are not guaranteed by any subsidiaries.
Cliffs Natural Resources (CLF) had announced a tender offer on November 19, 2014, which it subsequently withdrew due to adverse market conditions in December.
Deal or no deal?
This deal will  replace the existing revolver facility and associated covenants with an ABL facility and additional senior secured notes that don't carry EBITDA (earnings before interest, taxes, depreciation, and amortization) or fixed charges restrictions. This is expected to increase the liquidity of the company.
This will, however, come at the expense of increasing the company's overall interest rate and interest expense.
Overall, a debt burden of $2.7 billion doesn't bode well for a company. It isn't particularly good when the fundamentals of an iron ore commodity, which contributes to the bulk of its revenues and earnings, aren't too bright.
BHP Billiton (BHP), Rio Tinto (RIO), and Vale S.A. (VALE) are also facing cash flow woes due to depressed iron ore prices. Together, these three companies form 31.6% of the iShares MSCI Global Metals & Mining Producers ETF (PICK).
Cliffs forms 2.9% of the SPDR S&P Metals and Mining ETF (XME). XME provides diversified exposure to this sector.
Bloom Lake has been a major cause of high indebtedness for Cliffs Natural Resources. Recently, Cliffs filed for creditor protection for the mine and said its liabilities are without any recourse to Cliffs. We'll find out in the next part of this series if that's really the case.