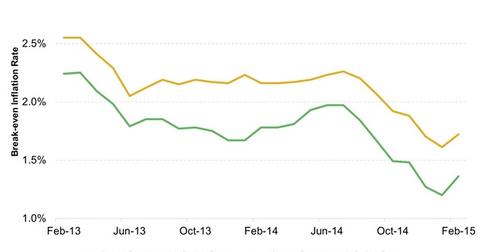 What do market-based measures of inflation say?
By David Ashworth

Updated
Inflation compensation
You may have come across the phrase "inflation compensation" in the context of inflation expectations. To understand this concept, let's take a step back and understand what TIPS (Treasury inflation-protected securities) are.
As their name suggests, TIPS are securities that are designed to protect investors against unexpected changes in inflation. The securities track changes in the CPI (consumer price index). In TIPS, both principal and coupon payments are adjusted to compensate for changes in the CPI.
Article continues below advertisement
An increase in the CPI increases the principal of TIPS, while deflation decreases it. However, on maturity, investors are paid the higher of the adjusted principal or original principal amount of the TIPS. The coupon is applied on the adjusted principal. The iShares Barclays Treasury Inflation Protected Securities Fund (TIP) invests in TIPS.
Break-even rate
The difference between prevailing yields of Treasuries and TIPS of the same maturity is known as "inflation compensation," or the "break-even inflation rate." It is at that level of inflation where, for a particular maturity, investments in both kinds of securities would be equally profitable. For the most part, investor expectations of future inflation determine this inflation compensation. Thus, market participants' expectations of low rates drive a decline in inflation compensation.
Article continues below advertisement
Inflation expectations: Market-based
In 2014, five-year inflation compensation fell for the most part, touching a low of 1.3% in December. The reading worsened in January 2015, falling to 1.2%, the lowest since May 2009. Though inflation compensation picked up to 1.4% in February, it is still significantly below the 2% Fed target.
Explaining the fall, Fed chief Janet Yellen said, "As best we can tell, the fall in inflation compensation mainly reflects factors other than a reduction in longer-term inflation expectations." One reason for the fall could be the high demand for US Treasuries internationally, which has pulled yields down. She, however, did not elaborate on these factors, and remained positive that inflation will return to its expected trajectory once "the transitory effects of lower energy prices and other factors dissipate."
An uptick in this measure may give policymakers enough confidence to raise the interest rate in 2015. An increase in rates would have a negative impact on Treasuries (TLT), and the Fed will have to be sure that economic growth will not be stifled due to a rise in the rate. A premature rise will negatively impact consumer spending, specifically discretionary spending, and consequently, companies like Home Depot (HD), Amazon (AMZN), and Lowe's (LOW).