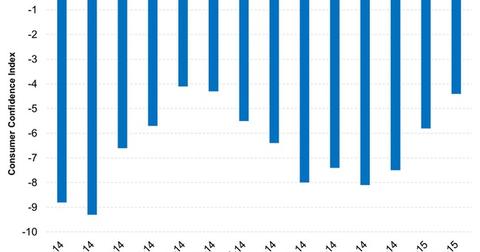 Low Consumer Confidence in Europe Has Affected Growth
By Russ Koesterich, CFA

Mar. 12 2015, Updated 4:06 p.m. ET
Will it work?
The legacy of the European debt crisis has affected the psyche of consumers and businesses, stifling demand and diminishing economic output. Until we see more pro-growth stimulus and structural reforms (especially in the labor market), we think QE will serve more as an economic stabilizer than a solution for Europe's chronically slow growth.
Article continues below advertisement
Market Realist – The European consumer remains wary.
European citizens have gone through a lot of hardship in the last decade or so. European banks were in very bad shape after the financial crisis. They also had to endure the much-talked-about debt crises, including the Greek debt fiasco, the possibility of Greece exiting the Eurozone, poor economic growth since the financial crisis, and so on. This has very much dented the psyche of Europeans.
The graph above shows the consumer confidence index, which the European Commission reports. As you can see, consumer confidence has been quite low in Europe (EZU). However, it has picked up in the last few months.
The above-cited reasons mean that Europeans are not very confident about the economy. A buoyant consumer would spend more money. Consumption makes up ~57% of the European GDP. Although the consumer is not as important to the Eurozone, lower consumption hurts the European economy and is a major reason for deflationary pressures.
Like the US (SPY)(IVV), and other developed markets (EFA)(VEA), the Eurozone has seen poor wage growth, a dipping labor force participation rate, and lower productivity. These factors lead to lower consumption. The eurozone needs labor market reforms along with reforms in the financial sector.
Read on to find out about the effects of QE on the European stock valuation.