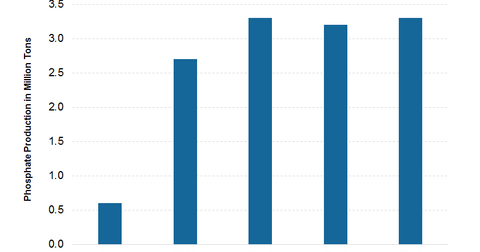 A Look at Vale's Fertilizer Nutrients Performance in 2014
By Anuradha Garg

Updated
Potash and phosphate production
Vale S.A.'s (VALE) production of potash totaled 492,000 tons in 2014. This was the same level as last year and 8.9% lower than the company's guidance of 540,000 for the year, mainly due to the depletion of the mine.
Phosphate rock output was 8.4 million tons in 2014. This was 1.7% higher than in 2013 but 0.2 million tons lower than the company's guidance for the year.
Gross sales revenues for potash reached $169 million in 2014. This was 23.9% lower than in 2013 due to lower sales volumes and prices. Phosphate and nitrogen gross sales revenues were also lower than 2013 by $16 million and $132 million due to lower sales prices and lower sales volumes, respectively.
Adjusted EBITDA for fertilizer nutrients improved from -$54 million in 2013 to $278 million in 2014 despite lower sales volumes and prices. This was mainly driven by the decrease in preoperating and stoppage expenses in the Rio Colorado Project and costs reduction.
Article continues below advertisement
Vale stated that in 4Q14, demand for fertilizers continued to improve slightly as Latin American countries prepared for the crop season. Overall supply continued to be mostly stable. Despite the supporting fundamentals, fertilizer prices had a limited upside in 4Q14, mainly impacted by bumper crops in the United States and Brazil.
Outlook
Phosphate rock and phosphoric acid prices have demonstrated signs of recovery. This is due primarily to a higher Indian demand and the closing of China's export window when the country raised export tariffs on fertilizers to ensure the needs of local agricultural producers.
Vale expects fertilizer prices to continue to improve in 1Q15 since there are still some unresolved constraints in supply. Approximately half of the world's potash reserves and 35% of global capacity is found in the Canadian province of Saskatchewan. This is where publicly traded large companies such as Potash Corporation (POT), Agrium Inc. (AGU), and The Mosaic Company (MOS) mine.
The VanEck Vectors Agribusiness ETF (MOO) invests in these companies. Phosphate is relatively more widespread, but all major exporters are located in the United States and in the northern region of Africa in Morocco, Algeria, and Tunisia.