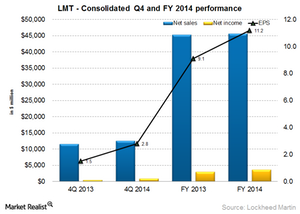 Lockheed Martin's 4Q14 and full-year financial performance
By Ally Schmidt

Aug. 18 2020, Updated 6:23 a.m. ET
Analyzing Lockheed Martins' performance in 4Q14
Lockheed Martin (LMT) had a successful fourth quarter. Its net sales grew from $11.5 billion to $12.5 billion. The growth was primarily driven by the strong demand in the F-35 program. The net earnings were $904 million for the quarter—compared to $488 million last year.
The earnings per share, or EPS, was $1.32 higher than the year before. The increase was driven by a change in the FAS (financial accounting standards) or CAS (cost accounting standards) adjustment, the absence of the restructuring charges, and a lower goodwill impairment charge.
Article continues below advertisement
The company also saw a strong book-to-bill ratio of 130%. Lockheed Martin had a near flawless inaugural test flight of its Orion spacecraft. This flight tested the capsule's key systems. It helped pave the way for future missions into space. Other achievements include the F-35 carrier variant's successful completion of on-ship trials aboard the USS Nimitz and production ramp ups.
Read Lockheed Martin's 3Q14 performance in Why investors should know Lockheed Martin's 3Q14 results.
Performance in fiscal year 2014
Lockheed Martin's 4Q14 numbers helped the company end the year with sales growth and strong backlog numbers. For 2014, the net sales were $45.6 billion—up slightly from $45.4 billion in 2013. The net earnings were $3.6 billion, or $11.21 per diluted share, for the current year. The cash from operations was $3.9 billion—after pension contributions of $2 billion for the year. The net earnings consisted of FAS or CAS pension income of $376 million. This increased net earnings by $232 million.
The year ended with a strong backlog of $80.5 billion. This was due to strong international business growth and a continued focus on the affordability of its products and operations. The strong program execution also allowed the company to generate almost $3.9 billion in annual operating cash—after making $2 billion in pension contributions. It returned more than $3.7 billion to its shareholders. In 2014, Lockheed Martin increased its investments in independent research and development activities to over $750 million.
Lockheed Martin forms a 2% holding of the iShares U.S. Industrials ETF (XLI). Other major companies included in the ETF are General Electric (GE), Union Pacific (UNP), and 3M Company (MMM). They form 9.24%, 5.90%, 5.55% holdings, respectively.