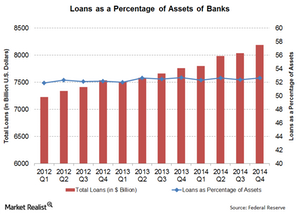 Why loan assets are gaining importance in the banking sector
By Saul Perez

Mar. 5 2015, Updated 6:05 p.m. ET
Loan assets are the most important for most banks
Loans, or a bank lending money and earning interest income in return, are usually paid back as equated monthly installments. These installments have a principal payback component and an interest component. The interest component is what a bank earns. The bank also has an interest cost for earning this interest component. This is true for all loans.
Loans originated at Wells Fargo (WFC), Bank of America (BAC), JP Morgan (JPM), and US Bank (USB) earn income from loans similarly. All these banks are a part of the Financial Select Sector SPDR (XLF). These banks account for 24.52%, or nearly a quarter, of XLF's portfolio.
Article continues below advertisement
Loan assets are the traditional earning streams for banks
Loans are the traditional earning stream for banks. In recent years, trading assets had grown in importance, but after the sub-prime crisis, the importance of loans increased again. Now let's look at the trends in loans in the banking system.
Loan assets have become more prominent in recent years
Net loans in the banking system of the US at the end of 2014 stood at $8,186.83 billion. At the end of 2013, net loans stood at $7,757.17 billion. This is a growth of nearly 5.34% compared to 2013. Loans as a percentage of assets remained almost the same. In 2013 loans were 52.66% of total assets. In 2014 this number stood at 52.64%.
Loan share has remained nearly the same due to two important factors. The first is that demand for loans has weakened in many segments, notably mortgages. Some loan segments like commercial and industrial loans have grown on the other hand. The net effect has been very little loan growth in 2014. The second reason is that many banks have also increased trading assets to benefit from changes in monetary policy.