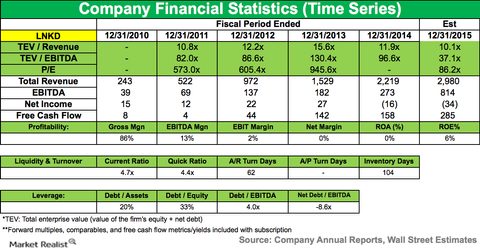 LinkedIn Is a New Position for Point72 Asset Management
By Diana Key

Updated
Point72 Asset Management and LinkedIn
Point72 started a new position in LinkedIn (LNKD) during 4Q14. The fund held 612,600 LinkedIn shares. It accounts for 0.99% of the fund's total 4Q14 portfolio.
Article continues below advertisement
About LinkedIn
LinkedIn is the largest professional network on the Internet. It has about 347 million members in over 200 countries. It provides the majority of its products at no cost to its members. It generates revenue through three product lines:
Talent Solutions
Marketing Solutions
Premium Subscriptions
All three product lines are sold through offline and online channels. Early in 2014, the company acquired Bright. It started adding open job listings to its network. It has over 3 million active job listings. This is ten times more than 2013. It has the flagship LinkedIn app. It also has Connected, Pulse, Jobs, and SlidesShare apps. LinkedIn is acquiring and renewing many customers including SAP (SAP).
New ad product – LinkedIn Network Display
In February, LinkedIn announced a new ad product—LinkedIn Network Display. The new product came from Bizo. LinkedIn acquired Bizo in July 2014. Now, advertisers can buy ad space from LinkedIn on other sites. Adveritisers can target a specific group of people and show them an ad on LinkedIn. Facebook (FB) and Twitter (TWTR) also sells ads to specific users by using the user's information.
Article continues below advertisement
Strong 4Q14
For 4Q14, LinkedIn reported revenue of $643 million—up 44% YoY (year-over-year) against the guidance of $600–$605 million. The company continued to expand internationally. It's important to note that 70% of the members were outside the US. The international market accounted for 40% of the total revenue. The offline revenue was 64% of the total revenue.
Talent Solutions grew 41% to $369 million. Field sales contributed 77% to Talent Solutions' total revenue. Marketing Solutions grew 56% to $153 million—including $16 million from Bizo. Premium Subscriptions grew 38% to $121 million. It was driven by "simplified buying experience in Q4, reducing SKUs, better educating customers, de-emphasizing email marketing, and standardizing free trials."
For 4Q14, the net income was $3 million, or $0.02 per share—compared to $4 million, or $0.03 per share, in 4Q13. It includes "non-cash interest expense related to the convertible offering." Adjusted or non-GAAP (generally accepted accounting principles) net income was $77 million, or $0.61 per share—compared to $48 million, or $0.39 per share, in 4Q13.
For full-year 2014, revenue was $2.2 billion. It was up 45%. The net loss was $16 million—compared to net income of $27 million. Non-GAAP net income was $254 million—compared to $192 million in 2013.
1Q15 and full-year 2015 outlook
Revenue is expected to be $618–$622 million. Non-GAAP earnings are expected to be ~$0.53 per share. For full-year 2015, revenue is projected to be $2.93–$2.95 billion. Non-GAAP earnings are expected to be ~$2.95 per share.
You can gain exposure to LinkedIn by investing in the iShares US Industrial ETF (IYJ). LinkedIn accounts for 1.0379% of IYJ.
In the next part of this series, we'll discuss Point72's position change in Gilead Sciences.