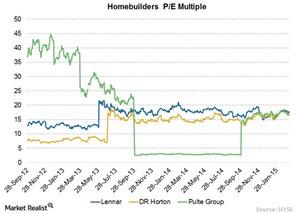 Lennar's Valuation Is in Line with Historical Average
By Peter Barnes

Updated
Lennar outperformed the S&P 500
Lennar Corporation's (LEN) shares have convincingly outperformed the S&P 500 (SPX). Lennar has a three-year return of 117.4% compared to the S&P 500's (SPX) return of 54.10% during the same period.
In fact, other homebuilders also outperformed the S&P 500 by a huge margin. PulteGroup (PHM) jumped by 159.7% during the last three years. D.R. Horton was up by 94.43%, and Toll Brothers (TOL) had a comparatively lower return of 66.16%.
Article continues below advertisement
Price-to-earnings ratio
A price-to-earnings (or PE) ratio is calculated by dividing the current market price of the stock by its earning per share (or EPS). It indicates the money a company is ready to pay for each dollar of the company's earnings. Generally, a high PE ratio means that investors are anticipating higher growth in the future.
A closer look at Lennar's valuation shows that it's in line with its historical valuation. Over the last three years, Lennar's price has ranged between 21.5x and 9.8x of its EPS, with a current PE multiple of 17.7x.
At this multiple, Lennar's stock is trading in line with most of its peers except KB Home (KBH), which is trading at a very low multiple of 1.5x. The industry average PE multiple is 11.8x.
PulteGroup (PHM) is trading at 16.5x, D.R. Horton (DHI) at 17.1x, and Toll Brothers (TOL) at 18.6x.
On a one-year forward PE multiple basis, Lennar (LEN) is at 13.9x, D.R. Horton (DHI) is trading at 12x, and PulteGroup (PHM) is at 13.3x. This indicates that valuations are not very rich, and there's still steam left in homebuilders' stocks.
EV-EBITDA ratio
Another earnings-based approach uses EV (enterprise value) to EBITDA (earnings before interest, taxes, depreciation, and amortization) multiples. EV-EBITDA multiples can be used for valuation of homebuilders along with the PE multiple. EV-EBITDA multiples value the worth of the entire company and not just the equity portion.
On an EV-EBITDA basis, most of the major homebuilders trade at around the same multiple. For example, Lennar (LEN) trades at an EV-EBITDA multiple of 15.06x. Its major peers, PulteGroup (PHM), D.R. Horton (DHI), and Toll Brothers (TOL), trade at multiples of 13.22x, 15.44x, and 16.75x, respectively.
The valuation of homebuilders is one of the dominating factors for investment strategies of homebuilder ETFs. These ETFs include the iShares Dow Jones U.S. Home Construction Index Fund (ITB) and the SPDR S&P Homebuilders ETF (XHB).