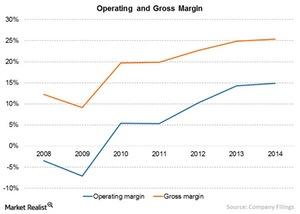 Why Are Lennar's Higher Margins Unsustainable?
Lennar is pursuing an asset-light model
Homebuilding is the primary driver of Lennar Corporation's (LEN) performance. The company is following a balance strategy of combining pricing power with cost to maximize growth.
Lennar is intentionally focusing on an asset-light model. It pursued an asset-heavy model during the boom time and was severely affected during the housing crisis. The change in strategy bodes well for the company and has resulted in an increase in margins.
Article continues below advertisement
Higher margins as a result
A you can see in the above chart, Lennar's (LEN) gross margin has been consistently increasing since 2009. For fiscal year 2014, the company reported a gross margin of 25.4%, the highest since 2005, and growth of 50 bps (basis points) over fiscal year 2013. Companies with higher gross margins will have more money left over to spend on other business operations.
Gross margin combined with SG&A (selling, general, and administrative expenses) of 10.5% increased the operating margin to 14.9% during fiscal year 2014. It was 5.4% in 2010.
During fiscal year 2014, labor and material costs increased by 7%. This represents a slowing pace for cost increases over the past two years. Lennar's gross margins are higher than its peers D.R. Horton (DHI) with a gross margin of 19.8%, PulteGroup (PHM) with 23.1%, and Toll Brothers (TOL) with 23.8%.
Article continues below advertisement
Higher margins are not sustainable
In 2015, Lennar (LEN) expects to see margin contraction to 24% compared to 25.4% in 2014. This is due to competitive pressures and the inclusion of some additional legacy land assets in its product offerings.
In addition, a product mix shift toward entry level and delayed projects, which have lower margins, is expected to hurt gross margins later in the year. A slowdown in the Houston market economy due to lower oil prices contributed 10.2% to Lennar's homebuilding revenue. This may hurt new home demand and thus gross margins in the region.
Margins might also fall because homebuilders have been able to increase margins in recent years largely by raising prices. As we've already seen, input costs have been growing slowly, and tight inventory has enabled homebuilders to raise prices. Buyers are now reluctant to pay higher prices, and builders have to offer incentives to entice buyers. This forces homebuilders to incur additional costs, which reduces margins.
All these factors will ensure that Lennar (LEN) will not be able to sustain higher margins.
Margin growth is one of the most important criteria for long-term investors such as the SPDR S&P Homebuilders ETF (XHB) and the iShares Dow Jones U.S. Home Construction Index Fund (ITB).