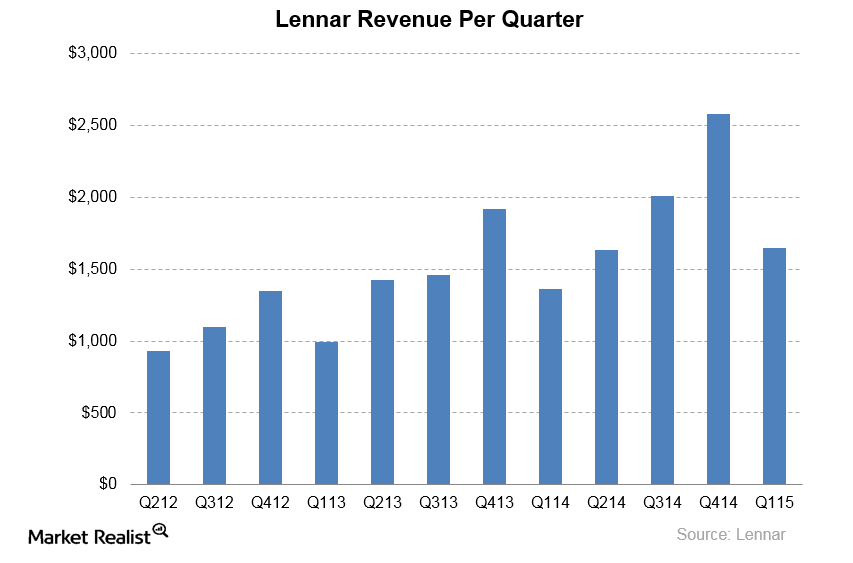 Lennar Keeps Reporting Big Increases in its Revenue
Lennar's top line is growing rapidly
For the first quarter of 2015, Lennar (LEN) reported $1.6 billion in revenue. This is an increase of 21% year-over-year. The company's homebuilding revenue increased 23%, to $1.4 billion from $1.1 billion in the first quarter of 2014.
Lennar Financial Services reported $124.8 million in revenue as mortgage origination volumes increased and refinance activity picked up. Rialto generated $41.2 million in revenue, and Multifamily generated $36.5 million.
Article continues below advertisement
Deliveries and prices rose
For the quarter, average selling prices increased 3%, to $326,000 from $316,000 during the same period last year. We've seen increases in average selling prices from every homebuilder, although the rate of increase has been decelerating. Deliveries totalled 4,301 homes. This is a 19.6% increase from the first quarter of last year. Incentives increased to $21,800 from $21,300, as buyers are beginning to balk at higher prices.
New orders increased 18% in units to 5,287 homes. The dollar value of new orders increased 25% to $1.8 billion. The backlog is 6,817 homes, or $2.4 billion. This is an increase of 20% in units and 23.8% in dollar terms. Backlog is one of the best ways to forecast revenues going forward.
It looks like the era of driving the top line by raising prices is over
The increase in average selling prices was cut in half in the first quarter from the fourth quarter. The amount of incentives was largely flat, at 6.7% of the home's value. Lennar echoed the same observations that PulteGroup (PHM) and Toll Brothers (TOL) made in their earnings reports: it's getting difficult to raise prices. While falling interest rates will help mitigate the effects of higher prices on affordability, it appears that the sector has pretty much seen its big price increases already. To show top line growth going forward, the builders are going to have to pump up volume—either through acquisition or through incentives. Other builders like D.R. Horton (DHI) will see the same effect.
Investors who are interested in trading the sector as a whole should look at the S&P SPDR Homebuilder ETF (XHB) or the iShares ITB Home Construction ETF (ITB).