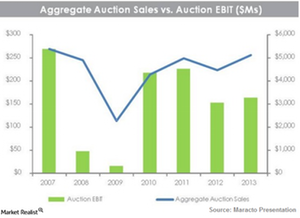 Large Sales at Sotheby's Do Not Necessarily Mean Big Profits
By Stuart McKenzie

Mar. 27 2015, Updated 12:05 p.m. ET
High competition and marketing costs squeeze profits
The previous article discussed how Sotheby's (BID) has failed to keep up with Christie's and how Sotheby's has been focusing solely on premium clients. This article will highlight why Sotheby's has not been succeeding in converting large sales into profit increases.
The graph above compares aggregate auction sales to auction EBIT (earnings before interest and tax) for Sotheby's. In an article published in The Guardian in January, Jason Farago noted that despite higher art prices, Sotheby's and other auction houses do not profit much. This is because ultra-rich sellers receive generous guarantees. Christie's does not disclose its profits, but the 2Q14 profits of Sotheby's fell 15% due to after-tax special charges of $10.2 million and a 20% expense increase.
Article continues below advertisement
Waiving consignor fees impacts margins
In a 2013 letter, activist shareholder Daniel Loeb said, "Based on discussions with market participants, it is our understanding that it has been Sotheby's who has most aggressively competed on margin, often by rebating all of the seller's commission and, in certain instances, much of the buyer's premium to consignors of contested works." This had led to "weak operating margins and deteriorating competitive position."
Offering guaranteed payments to sellers lowers profits
According to an article that appeared in The Guardian on January 30, 2015, auction houses tend to offer guaranteed payments to sellers regardless of an item's ultimate price. Auction houses keep the values of such guaranteed payments confidential, but these payments may be very lavish if the lot is more reputable.
The auction houses themselves were financing these guarantees once upon a time. After the 2008 financial crisis, however, the houses had to pay consignors millions of dollars in the form of guarantees. Auction houses then introduced the concept of the "third-party guarantee." This lowered the risk faced by the houses, but it also eroded their profits.
For the reasons presented above, record profits did not follow through from record sales at Sotheby's. This led to poor returns for shareholders' capital and justified an activist stance.
Nevertheless, Sotheby's posted an operating margin of 24.1% for 2014. For the same period, Tiffany & Co. (TIF), Nordstrom (JWN), and eBay (EBAY) had operating margins of 7.5%, 10.8%, and 19.6%, respectively. These companies are not directly comparable to Sotheby's, but we have chosen to mention them here because the auction house does not have any publicly traded peers that operate in a similar business domain.
Sotheby's has a 0.01% representation in the Vanguard Total Stock Market ETF (VTI). Investors should consider this fund if they wish to gain exposure to the specialty retail sector.
The next article will cover the 4Q14 earnings of Sotheby's.