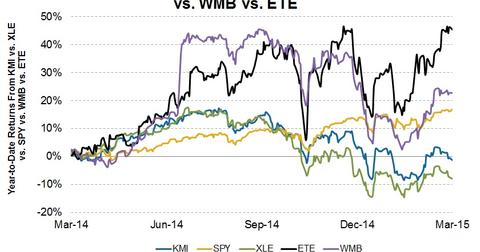 Kinder Morgan's market performance has been at par
By Alex Chamberlin

Updated
Kinder Morgan's performance relative to the market
We have discussed various issues in regards to Kinder Morgan's (KMI) operations and performance. But how much have these concerns affected returns from Kinder Morgan's stock? In this article we'll examine whether Kinder Morgan's market performance has been below par.
Kinder Morgan Energy (KMI) has outperformed the industry and the broader market. Kinder Morgan's stock has posted 32% return in the past year.
In comparison, the Energy Select Sector SPDR (XLE) has returned a negative 11% in the past year. The broad market index SPDR S&P 500 (SPY) is up ~11.6% in one year.
Article continues below advertisement
Why energy stock returns have been low
Returns on many energy stocks have tumbled since June when the crude price started to crash. West Texas Intermediate (or WTI) price, which is the producers' benchmark price in the US, has decreased nearly ~50% since then.
This fall in prices has negatively affected revenues and margins of the oil producers. In response, some of the upstream oil companies have gradually started to mark down investment, which hurts oil equipment and service producers. This explains why XLE's returns have been so poor.
Kinder Morgan's return has matched its peers
Spectra Energy has also outperformed its large cap peer, Williams Companies (WMB), but underperformed Energy Transfer Equity (ETE). All these are midstream companies, which have benefited from increased natural gas and oil production.
From January 2014 to January 2015, crude oil production in the US increased 13%, while dry natural gas production has increased 6% from November 2013 to November 2014.
Williams Companies' (WMB) one year return has been 20.9%. Energy Transfer Equity (ETE) with 42% return has significantly outperformed the broader market and its peers. Read Market Realist's Energy Transfer Equity's 4Q 2014 earnings: A merger dominates to find out more about the company.
While Kinder Morgan's Natural Gas Pipelines and Kinder Morgan Canada segments have performed well in 2014, its CO2 segment performed below par compared to the corresponding period last year. Read the previous parts of this series for a detailed analysis of Kinder Morgan's segment performance.
Kinder Morgan's stock market returns have been moderate. Does its relative valuation in the market support returns? Read the following section to find out.