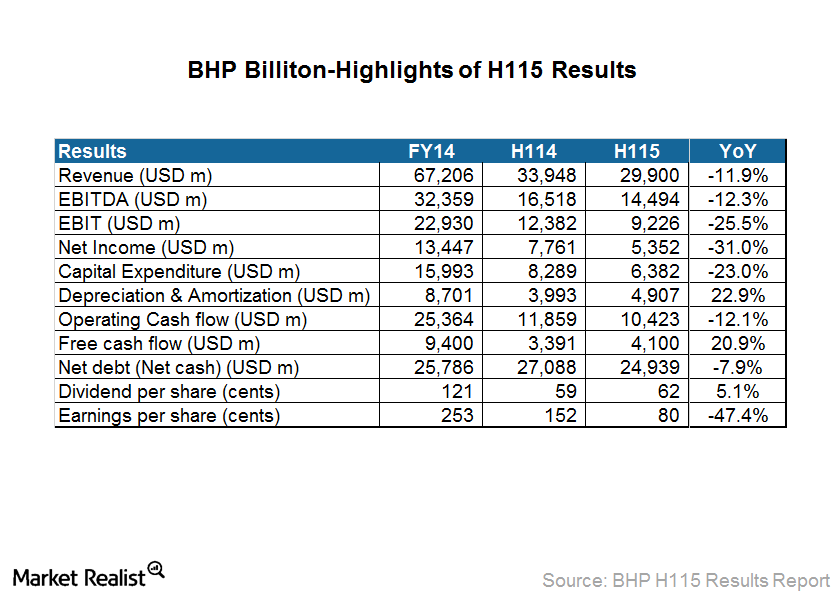 Key takeaways from BHP Billiton's 2015 interim results
By Anuradha Garg

Mar. 11 2015, Published 12:43 p.m. ET
Earnings highlights
On February 24, BHP Billiton (BHP) released its 1H15 results for its financial half year ending December 31. The results beat market expectations, particularly in terms of the company's costs and productivity savings. The key drivers for the positive results were better costs in iron ore and copper. Underlying EBIT (or earnings before interest and tax) came in at $9.2 billion with an EBIT margin of a strong 32%.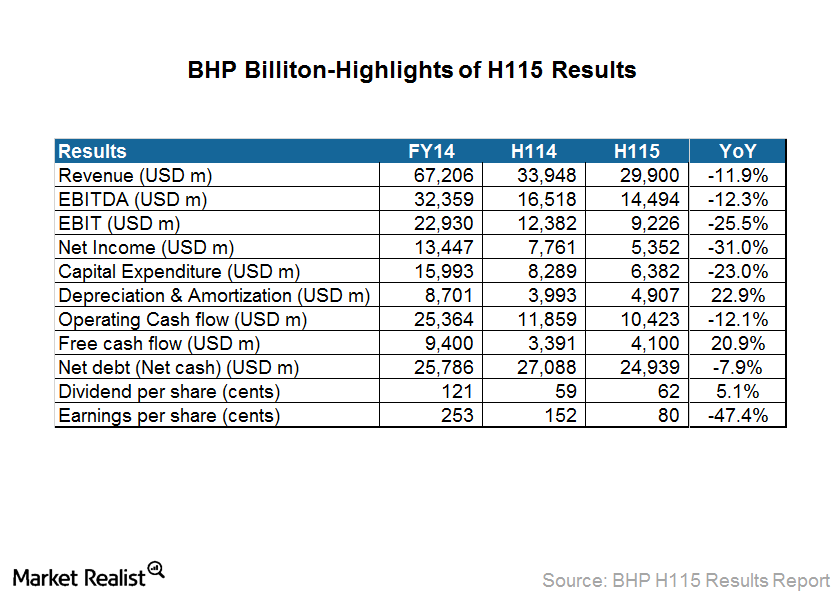 Strong margins despite commodity price weakness mainly reflect the cost discipline and productivity improvements at BHP.
The company's net debt was $24.9 billion with a gearing of 22.4%, which is a decrease of $847 million compared to the net debt position as of June 30, 2014. BHP's A+ credit rating was also reaffirmed. Maintaining an A+ credit rating has been one of the top priorities for BHP.
Article continues below advertisement
Strong productivity gains
Productivity gains totaled $2.4 billion for the six-month period. The company has mentioned that it remains on track to deliver at least $4.0 billion of productivity gains from its core portfolio by the end of the 2017 financial year. Improved productivity and reduced rate of investment helped the company to deliver $4.1 billion of free cash flow during the period, despite weaker commodity prices.
Capex to decline further
BHP Billiton's share of capital and exploration expenditure declined by 23% during the period to $6.4 billion. Continued improvement in capital productivity is expected to support a reduction in forecast capital and exploration expenditure for the 2015 financial year to $12.6 billion, 15% below its original guidance. The company also expects capital and exploration expenditure to further reduce to $10.8 billion in the 2016 financial year.
With its cost control initiatives, Cliffs Natural Resources (CLF) also beat estimates in its fiscal year 2014 results. The Brazilian miner Vale SA (VALE) reported weaker-than-expected results on higher costs. Rio Tinto's (RIO) fiscal 2014 results reflected higher revenues and lower costs. BHP Billiton, Rio, and Vale form 33.2% of the iShares MSCI Global Metals & Mining Producers ETF (PICK). CLF forms 3.6% of the SPDR S&P Metals and Mining ETF's (XME) holdings.
We'll discuss BHP Billiton's 1H15 results in detail in the following articles, but before that, we'll offer a brief overview of the company.