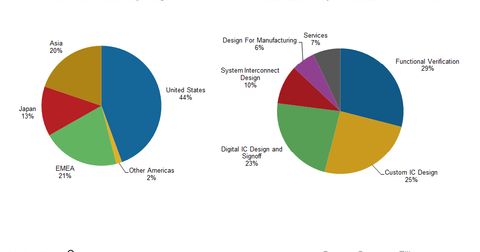 Key overview of Cadence Design Systems's operations
By Santiago Solari

Updated
Glenview positions
In the previous article, we discussed Glenview Capital's increased position in Cadence Design Systems (CDNS), which it revealed in its 13G filing. Other companies with increased Glenview stakes since 3Q14 are Lithia Motors (LAD), Teradyne (TER), PVH Corp. (PVH), Avis Budget Group (CAR), and PHH Corporation (PHH).
Article continues below advertisement
Overview of Cadence
Cadence Design Systems develops solutions for designing complex integrated circuits (or ICs) and electronic devices. Its product offerings can be broadly categorized into electronic design automation (or EDA) software and emulation hardware, as well as two categories of intellectual property (or IP)—verification IP and design IP.
In fiscal 2014, EDA contributed to nearly 67% of Cadence's $1.6 billion revenues, with verification-based solutions representing 33% of its revenues. From a geographic standpoint, 43% of the company's sales were generated from its US customers. Asia accounted for 23% of its sales; Europe, the Middle East, and Africa (or EMEA) represented 21%; Japan represented 11%; and other regions of North and South America contributed to 2% of the company's revenues in 2014.
Ratable business model
The bulk of Cadence's EDA and verification products are software-based. Cadence engages in renewable contracts with semiconductor and electronics systems companies that deliver electronics products in market segments such as:
mobile devices
communications
cloud and data center infrastructure
personal computers
In order to sell or lease these software products, Cadence typically enters into contracts with an average life of 2.5 years with its customers. Roughly 90% of its revenues come through contracts over multiple periods, allowing the company to generate a steady, predictable stream of revenues.
Key ETFs
Investors seeking to attain exposure to Cadence Design Systems (CDNS), as well as the technology and software sectors, can consider investing in the iShares North American Tech-Software ETF (IGV). This ETF has an allocation of 1.30% in its portfolio for Cadence. The ETF's top positions include Oracle Corporation (ORCL), accounting for 8.64% of the ETF's portfolio, Salesforce (CRM) at 8.35%, Adobe Systems (ADBE) at 8.27%, Microsoft (MSFT) at 7.37%, and Intuit (INTU) at 6.03%.
Cadence is also a component of the Vanguard Information Technology ETF (VGT) and makes up 0.13% of that fund.