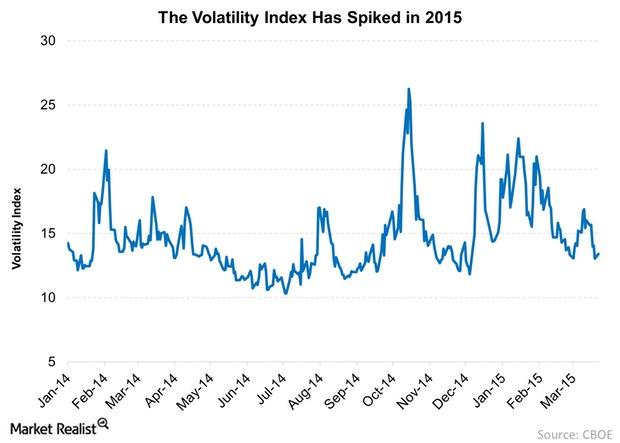 Key Headwinds Have Led to Higher Volatility in US Stocks
By Russ Koesterich, CFA

Mar. 27 2015, Published 1:38 p.m. ET
Despite some wild market swings, good value can still be found, especially in non-U.S. stocks. Monetary policies and other factors are lifting markets in Europe, Japan and some emerging markets.
Market volatility has been higher this year: sharp swings can be seen in stocks, interest rates and oil prices. For now, we believe investing in a combination of international stocks and credit offers the best relative value. Read more on the reasons behind our rational in my weekly commentary.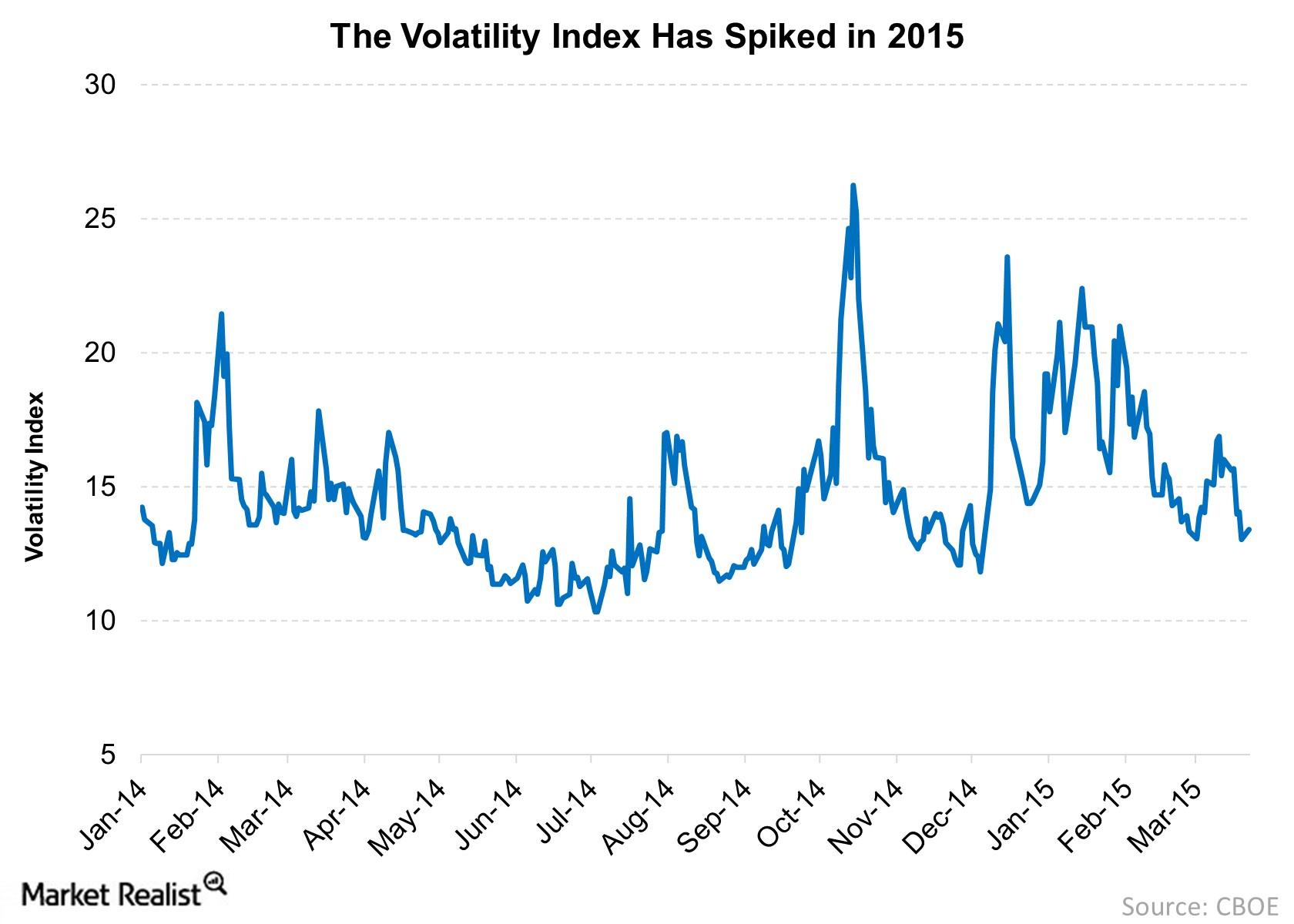 Article continues below advertisement
Market Realist – A stronger dollar, lofty valuations, and the looming rate hike are causing higher volatility in US stocks.
The graph above shows the CBOE volatility index, or VIX (VXX), which is also known as the "fear gauge." The higher the index, the riskier investors perceive the stock markets to be.
For most of 2014, the VIX remained low, as the US economy was doing well. However, since October 2014, the index spiked on the back of softening global growth (ACWI). This year, so far, the VIX has been higher than last year, as the graph suggests. The average level for the whole of last year was 14.2. The average for this year so far is 16.8, which is closer to the long-term average of ~20. Volatility has reduced in the last few days, though. However, it could increase again, as equities are facing many headwinds—including a stronger dollar, lofty valuations, the possibility of a rate hike, and soft global growth.
Safe-haven assets like Treasuries (TLT) and gold (IAU) revel in volatile stock markets. With the stock markets poised for more volatility, these assets could gain. However, gold faces major headwinds in the form of a stronger dollar and rising real rates.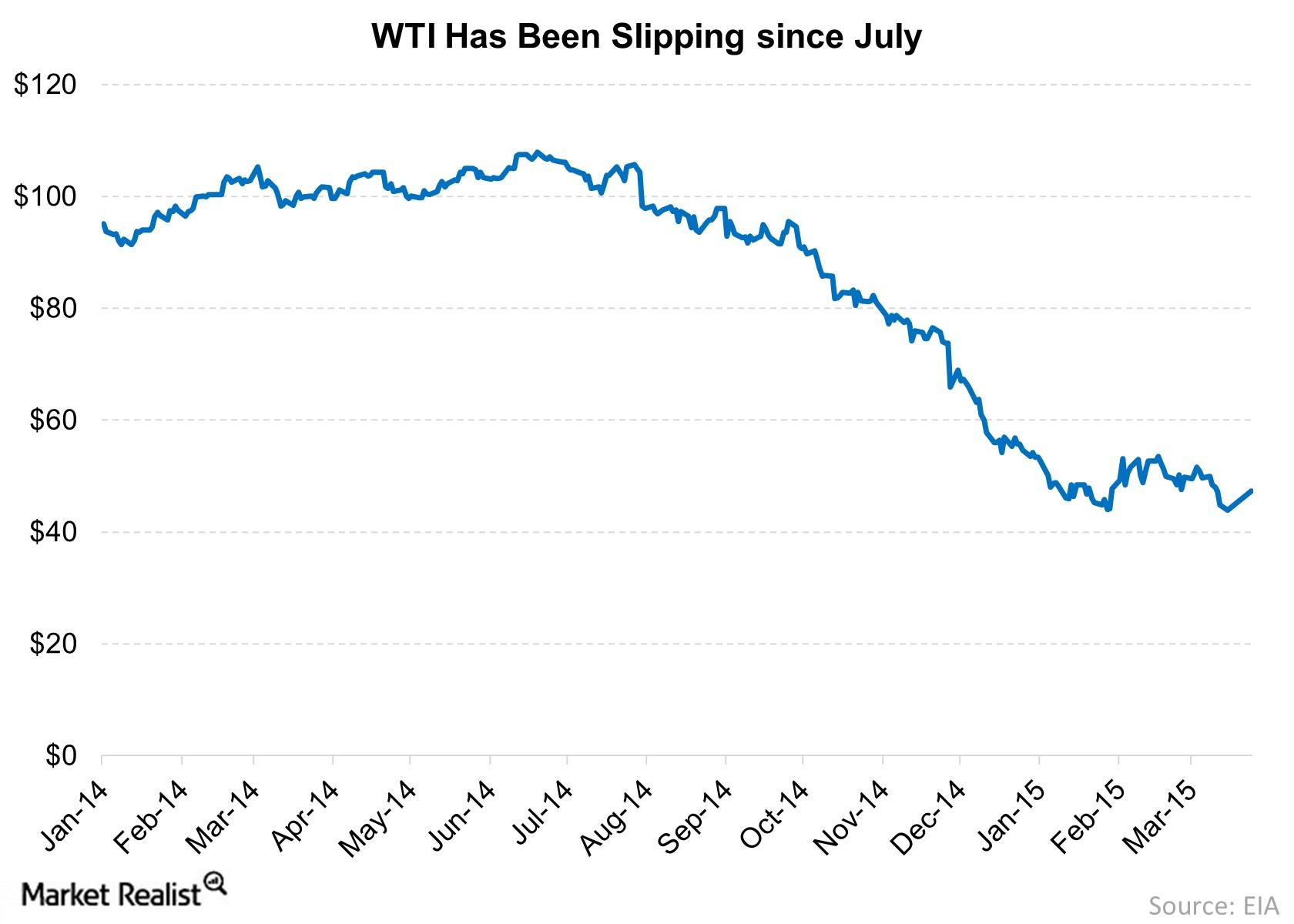 This second graph shows WTI (West Texas Intermediate) crude oil prices since 2014. Oil (USO) prices have dipped by 55% since July 2014. While this drop is a big negative for energy companies, it leads to savings for consumers, which could eventually lead to higher consumption. You'll find more on energy stocks in Part 9 of this series.