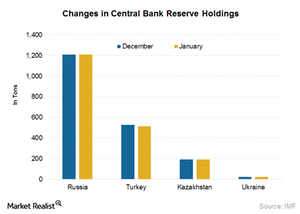 Why you should keep an eye on central bank gold reserves
By Anuradha Garg

Updated
Central bank gold reserves
Central banks hold ~20% of all the gold that has ever been mined. The sheer holding size is why central banks around the world can significantly influence gold prices.
Central bank gold reserves influence gold sales and purchases worldwide. In the process, they influence gold prices (GLD) as well as the price of gold stocks such as Goldcorp (GG), Barrick Gold (ABX), Newmont Mining (NEM), Kinross Gold (KGC), and Yamana Gold (AUY), as well as ETFs that invest in these stocks, including the VanEck Vectors Gold Miners ETF (GDX). GDX's three top holdings are GG, ABX, and NEM, which make up 26.2% of its total portfolio.
Article continues below advertisement
Who's selling gold?
In January 2015, Russia sold a small amount of gold. Its gold reserves were 1,207.7 tons in January compared to 1,208.2 tons in December. Russia has been adding to its gold reserves for many years in order to strengthen the ruble.
Gold reserves for Turkey also fell marginally, as they also did for Belarus and Mexico.
Who's hording gold?
Kazakhstan increased its gold reserves by 1.7 tons to end at 193.5 tons for January. This is the 28th consecutive month that Kazakhstan has increased its holdings, which have more than doubled in the past three years.
Ukraine also increased its reserves by 0.26 tons, to 23.9 tons.
The Eurozone raised its gold holdings by 7.4 tons to 10,791.9 tons in January.
In the overall scheme of things, this looks quite miniscule. But it shows that the European Central Bank might start accumulating gold. The bank's president, Mario Draghi, once said that gold is a '"reserve of safety."
Investors should watch any developments on this front very closely.