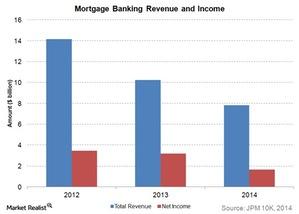 J.P. Morgan Feels the Effects of a Challenging Mortgage Environment
By Rekha Khandelwal, CFA

Apr. 22 2015, Updated 11:40 a.m. ET
Mortgage Banking revenues in decline
Total mortgage origination volume at J.P. Morgan (JPM) declined by 53% in 2014 compared to the previous year. Loan servicing volume showed a relatively small decline of 8% year-over-year. Both sets of results drove the Mortgage Banking segment's revenues and net income down.
The chart above shows J.P. Morgan's Mortgage Banking segment's net revenues and income over the last three years. Declining interest and non-interest revenues contributed to smaller revenues overall. Net interest income fell driven by spread compression and lower loan balances. Non-interest revenue was hit by lower mortgage fees and related income.
The challenging environment is impacting mortgage banking operations at other banks as well, including Bank of America (BAC), Wells Fargo (WFC), and Citigroup (C). Because these banks make up ~19.5% of the Financial Select Sector SPDR ETF (XLF), the fund was also affected.
Article continues below advertisement
Expenses decline along with revenues
Diminished operations and revenues from the Mortgage Banking segment has led to a reduction in related expenses. Expenses declined 30% in 2014 compared to the year before. The company has reduced its Mortgage Banking head count by ~19,000 over the last three years.
Charge-off rates decline
All banks maintain loan loss reserves to cover estimated potential losses in their loan portfolios. Charge-offs are the value of loans removed from the books and deducted from these loss reserves. Provisions are the additions made to loss reserves each period.
The charge-off rate is charge-off expressed as a percentage of average loans for the period. A consistently higher charge-off rate indicates more relaxed lending standards and risk. A company with historically higher charge-off rates will be more affected when economic conditions become unfavorable.
J.P. Morgan's real estate portfolio's net charge-off rate indicates a decline over the last three years. It fell to 0.4% in 2014 from 2.68% in 2012. This shows that the bank's loan quality has improved, largely as a result of its focus on retaining only high-quality mortgages. Also, the effects of the sub-prime mortgage crisis are now much less pronounced—a trend you can observe across the entire banking sector.