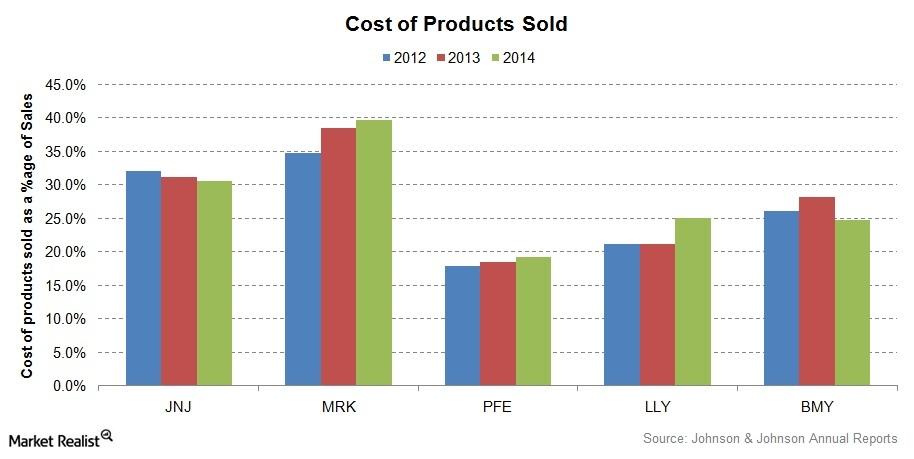 Johnson & Johnson's Gross Margin Increased
By Mike Benson

Mar. 17 2015, Updated 2:05 a.m. ET
Cost of products sold
The cost of products sold—also known as the "cost of goods sold," or COGS—is the direct cost attributable to the production of goods. It includes the cost of raw materials, packaging material, direct production costs, and certain freight costs. A lower COGS means a higher gross margin for the company. COGS is also linked to inventory turnover. Inventory turnover measures how fast the company turns over its inventory within a year.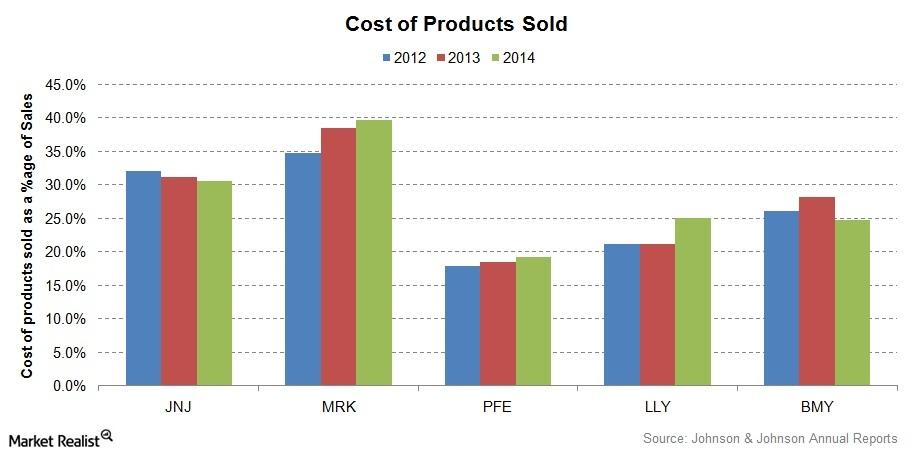 Article continues below advertisement
The above chart shows a comparison of COGS for big pharma companies with headquarters in the US. Over three years, the trend is different for each company. For Johnson & Johnson (JNJ), COGS decreased from 32.2% in 2012 to 30.6% in 2014. This resulted in an increase in gross margin from 67.8% in 2012 to 69.4% in 2014.
Increase in gross margin
Johnson & Johnson is a family of companies. It consists of over 265 operating companies. The company's gross margin increased due to the following reasons:
higher sales of higher margin products
lower costs associated with strong volume growth in the Pharmaceuticals segment
cost reduction efforts across many of the businesses
While the gross margin increased noticeably, the increase was partially offset by:
incremental intangible asset amortization expense related to Synthes and the Medical Device Excise Tax
increased amortization expense due to the royalty buyout agreement with Vertex for Incivo
total intangible asset amortization expense for 2013 was $1.4 billion—it was $1.1 billion for 2012
The change in COGS improved the net earnings to 22% of sales in 2014—compared to 19.4% in 2013.
Other big pharmaceutical companies
While the sales for Johnson & Johnson increased year-over-year, or YoY, for 2012–2014, the sales for big pharma companies like Pfizer (PFE), Merck & Co. (MRK), Eli Lily and Company (LLY), and Bristol-Myers Squibb Co. (BMY) reduced during the same period. This led to an increase in COGS for all of the other companies.
Pfizer forms about 7.40% of the total assets of the Health Care Select Sector SPDR ETF (XLV). In recent years, it noticed sales dip due to patents expiring for two of its drugs—Lipitor and Viagra. Lipitor is a drug that lowers cholesterol. Viagra is a drug for erectile dysfunction.