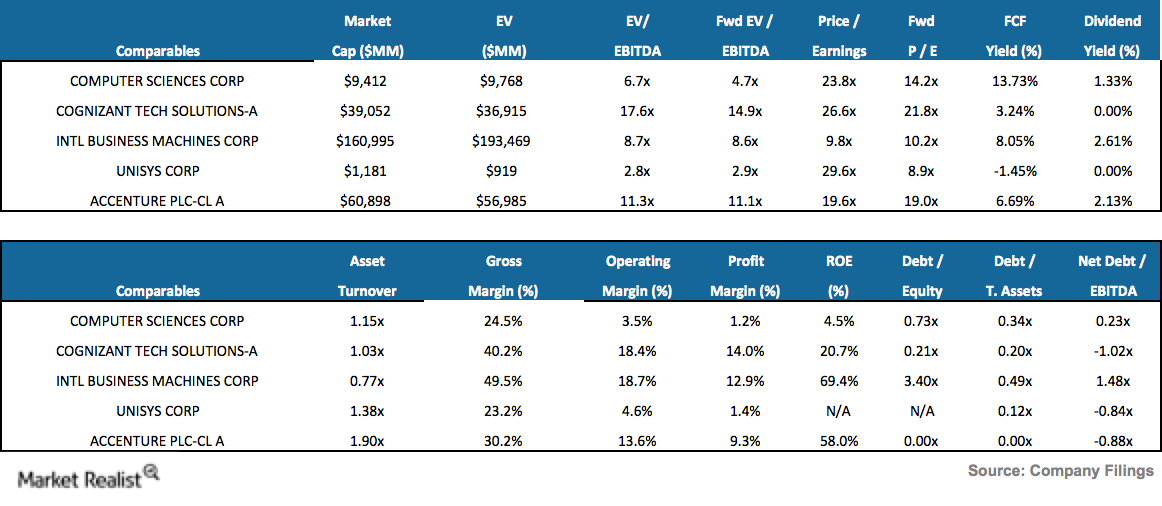 Why JANA Partners Considers CSC To Be Undervalued
JANA says Computer Sciences Corporation is undervalued
In its filings, JANA Partners declared its increased stake in Computer Sciences Corporation (CSC), believing that the company is undervalued. JANA wants CSC to look for strategic alternatives. Let's explore JANA's rationale for its assessment.
Article continues below advertisement
CSC's relative valuation
To determine its relative valuation, we compared Computer Sciences Corporation with its peers Cognizant Tech Solutions (CTSH), International Business Machines (IBM), Unisys (UIS), and Accenture (ACN). CSC is a part of the Technology Sector SPDR ETF (XLK), and it also accounts for 0.10% of the iShares S&P 500 Value ETF (IVE).
Computer Sciences Corporation has the second lowest market cap among these peers. Its forward EV/EBITDA (enterprise value to earnings before interest, tax, depreciation, and amortization) was less than the majority of its peers. The company's low EV/EBITDA ratio indicates that the company might be undervalued and is a good target for takeover by other companies. Its forward price-to-earnings ratio of 14.2x is at the middle level.
CSC's gross margin was lower than majority of its peers. Its operating and net profit margins were the lowest among its peers. Cognizant Tech Solutions, IBM, and Accenture all had operating margins in the range of 13.6%–18.7%, whereas CSC's operating margin stood at 3.5%.
Analyst views on CSC
JANA Partners revealed its stake in Computer Sciences Corporation on February 23. Stifel Nicolaus downgraded CSC from buy to hold on the second day after JANA's filings. BMO Capital Markets set a price target of $63 on CSC stock. On March 20, the stock closed at $66.73 on the New York Stock Exchange. On February 23, J.P. Morgan repeated its sell rating on CSC.
Recently, Morningstar assigned a BBB rating to Computer Sciences Corporation, which indicates the company has a moderate risk of default.
Computer Sciences Corporation CEO Michael Lawrie sold 14,586 shares of CSC on February 13 at an average price of $65.14, which he reported in filings with the Securities and Exchange Commission (or SEC).
It will be interesting to see whether Computer Sciences Corporation follows its strategic alternatives to unlock maximum value for its shareholders.