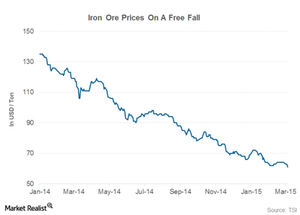 Iron Ore Prices Are at a 6.5-Year Low – Will They Fall More?
Iron ore prices are at 6.5-year low
Iron ore prices hit a 6.5-year low of $54.20 per ton on March 23. The prices already fell by 13% YTD (year-to-date). The prices fell by 49% in 2014. The prolonged fall in prices is taking a toll on iron ore companies.
Article continues below advertisement
Series overview
In this series, we'll discuss some of the important demand and supply indicators that drive the iron ore industry.
On the supply side, we'll talk about production and future supply plans for the major companies.
On the demand side, we'll look at factors like China's inventory levels, steel production, iron ore imports, and the PMI (purchasing managers' index).
In a broader context, we'll talk about factors like the credit situation and the real estate market that have an impact on demand and supply for steel and ultimately, iron ore.
We'll look at iron ore futures. We'll see how they move with current industry dynamics.
We'll provide a perspective regarding the outlook for iron ore based on the above factors. We'll see how these factors impact iron ore companies.
Holistic view
Most of these indicators are published monthly. Other indicators are reported weekly or quarterly. Regardless, these indicators should be looked at collectively. They give investors cues about the direction of iron ore prices. They also give investors cues about companies' share prices—including Rio Tinto (RIO), BHP Billiton (BHP), Vale SA (VALE), and Cliffs Natural Resources (CLF).
BHP Billiton, Rio Tinto, and Vale form 32.2% of the iShares MSCI Global Metals & Mining Producers ETF (PICK). Some of these companies are included in the SPDR S&P Metals and Mining ETF (XME).