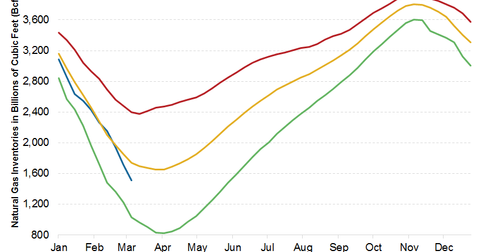 Investors: Keep watch on the EIA natural gas inventory report
By Keisha Bandz

Mar. 16 2015, Published 3:08 p.m. ET
Natural gas inventories
The U.S. Energy Information Administration (or EIA) reports natural gas inventory figures every week. Natural gas is an important fuel worldwide with uses from power generation to plastics.
Natural gas consumption in the United States is very seasonal. Consumption is highest in the winter when heating demands are at their highest. About half of American homes use natural gas for heating. Storage levels decline during these months. Producers restock natural gas storage between April 1 and October 31, which is also called the "injection season."
Article continues below advertisement
Demand and inventories
Markets monitor inventory levels every week to determine if inventory levels will be high enough for the winter. If winter demand is strong, available natural gas in storage could come under strain.
While natural gas demand is high during the winter, hot temperatures during the summer can also cause an increase in demand. Power stations use more fuel to power cooling devices like air conditioners. This sometimes reduces storage buildup during the injection season.
Inventories and prices
Inventory levels have a direct bearing on natural gas prices. These prices affect the profitability of natural gas producers such as WPX Energy (WPX), Chesapeake Energy Corporation (CHK), Encana Corporation (ECA), and EQT Corporation (EQT). WPX, CHK, and ECA are components of the Vanguard Energy ETF (VDE) and make up ~1.3% of the fund.
When there are supply constraints because of strong heating demands, particularly during winter, natural gas prices can spike. This is what happened last winter when heating demand was at its highest. Natural gas prices touched $6 per MMBtu (million British thermal units).
Later in this series, we'll discuss natural gas price movements for the week ended March 6.
Inventory expectations
If the decline in inventories exceeds expectations, it implies either lower supply or stronger demand than expected. This is bullish for natural gas prices. However, if the decrease in natural gas inventories is less than expected, it implies either stronger supply or lower demand than expected. This is bearish for natural gas prices.
Analysts expected an inventory draw of 191 billion cubic feet (or Bcf) for the week ended March 6. We'll discuss actual inventory changes in the following parts of the series.