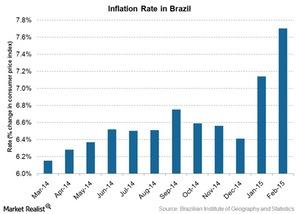 Inflationary woes in Brazil continue despite rise in Selic rate
By Surbhi Jain

Updated
Inflationary woes in Brazil
Investors should keep an eye on the inflationary woes in Brazil. The Fundação Getulio Vargas (or FGV) in Brazil (EWZ) comes out weekly with its estimate of consumer price level changes in Brazil. The IPC-S reading for the consumer price index is calculated by taking into account prices in the country's main cities, including Belo Horizonte, Brasilia, Porto Alegre, Rio de Janeiro, Salvador, and São Paulo. In calculating the index, each city has a weight proportionate to its population.
For the week ended March 15, the IPC-S consumer price index in Brazil was at 1.49 against an expected 1.42. Inflation in the seven major cities in Brazil has been rising steadily since the second half of last year and peaked in January.
The Central Bank of Brazil has attempted to rein in inflation by subsequent rises in Brazil's key interest rate, also known as the Selic rate. However, inflation remains the center point of discussion with respect to the Brazilian economy.
The Selic rate is currently 12.75%, up from 11% in the middle of last year. Brazil's inflation rate currently stands at 7.7%, according to the February reading reported by the Brazilian Institute of Geography and Statistics.
Article continues below advertisement
The Brazilian real has been depreciating against the US dollar
The Brazilian real has been on a depreciating trend since September 2014. Recently, on March 7, 2015, the Brazilian real fell to its ten-year low of 3.056 real to one US dollar. Yes, the US dollar (UUP) has been appreciating, but the decline in the real cannot be solely attributed to that.
Stock markets have declined by 35% since September 2014
The Brazilian stock market has fallen by 35% in terms of the US dollar since the real started depreciating in September 2014. Half of this decline was caused by the slump in the Brazilian state-owned oil giant Petróleo Brasileiro S.A., also known as Petrobas.
Petrobras's (PBR) shares have lost about 71% over the last six months and about 30% since the beginning of 2015. Petrobras has been under scrutiny for some time with regard to a corruption scandal.
On February 24, Moody's Investors Service downgraded all ratings for Petrobras, from Baa3 (investment grade with moderate credit risk) to Ba2 (speculative grade with substantial credit risk). Other Brazilian firms such as Itaú Unibanco Holding S.A. (ITUB) and Vale S.A. (VALE) have lost about 20% and 28%, respectively, so far this year.
Stay updated with the latest key indicators that could impact your investments by visiting our Global Equity ETFs page on the Market Realist website.