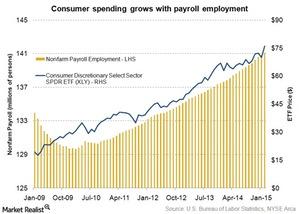 Improving jobs report a boon for consumer discretionary ETFs
By Surbhi Jain

Updated
More jobs means more spending
The jobs report serves as an important barometer of economic health and growth across all sectors of the economy. A declining unemployment rate, or a rising payroll trend, indicates increased business activity. And this, of course, translates to overall growth supported by higher consumer and business spending.
More jobs means more production, which implies more sales and more profit for businesses. With more profit, there's greater motivation to invest more. More jobs also mean money in the hands of more consumers—so, an increase in overall consumer spending.
Article continues below advertisement
US is service oriented, non-farm payroll are critical
In the US, where the service sector accounts for more than three-quarters of GDP (gross domestic product), an upward trend in non-farm payroll employment becomes even more pertinent and important.
Though an improving employment situation is good for overall economic growth, there are certain sectors where the benefit becomes visible faster. These include the consumer discretionary sector and the real estate sector, among others.
Improving jobs report boosts consumer discretionary ETFs
The good that comes from an increase in payroll numbers can be seen in the improving performance of the US consumer discretionary sector that's driven by consumer spending. This sector is tracked by exchange-traded funds such as the Consumer Discretionary Select Sector SPDR Fund (XLY) and the SPDR S&P Retail ETF (XRT). These funds invest in consumer cyclical stocks such as American Eagle Outfitters (AEO), Foot Locker (FL), and Conn's (CONN). These three companies were the best-performing stocks in the XRT with an average return of 8.75% between them. Respectively, XRT has 1.03%, 0.93%, and 1.38% of its portfolio allocated to these companies.
The chart above clearly shows how consumer spending, as represented by XLY, has gained alongside payroll employment.
Next, we'll look at how the US employment situation compares with that of the Eurozone.