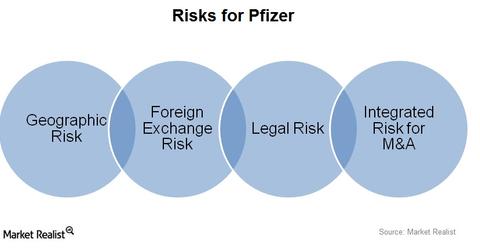 What Are Pfizer's Additional Risks?
By Mike Benson

Updated
Risks for Pfizer
Pfizer (PFE) faces a unique combination of risks. These risks are in addition to the pharmaceutical industry's specific risks.
Article continues below advertisement
Foreign exchange risk
Pfizer operates globally. It's exposed to foreign exchange risk in its commercial operations. It's also exposed to foreign exchange risks in investments in subsidiaries and their assets and liabilities. Over 60% of the total revenue is from non-US markets. The foreign exchange affected all of the company's segments.
Geographic risk
Since Pfizer operates globally and over 60% of its total revenues are from non-US markets, it's exposed to geographic risk. However, the widespread network reduces the geographic risk. Any changes in the social, regulatory, and economic environment in one of the markets won't affect the business adversely.
Article continues below advertisement
Legal risk
Pfizer is exposed to legal risks—like patent rights and prohibition rules. For patent rights, the company experienced many legal issues with reference to its key drugs.
In October 2010, the company filed a patent-infringement action with respect to Viagra. It filed the action in the U.S. District Court against Apotex Inc., Apotex Corp., Mylan Pharmaceuticals Inc., Mylan Inc., and Actavis, Inc. These generic drug manufacturers filed abbreviated new drug applications with the FDA seeking approval to market their generic versions of Viagra. They assert the invalidity and non-infringement of the Viagra method-of-use patent. The patent expires in 2020.
This includes the six-month pediatric exclusivity period resulting from the company conducting clinical studies to evaluate Revatio in the treatment of pediatric patients with pulmonary arterial hypertension. Viagra and Revatio have the same active ingredient—Sildenafil.
Integration after mergers and acquisitions
Pfizer tries to minimize the integration risk after a merger by maintaining a decentralized management structure. The company has over 500 subsidiaries. Recently, the company announced its plan to acquire Hospira.
Since 2014, the company also modified the business classification in established and innovative business segments. The GEP (Global Established Pharmaceutical) segment is established. The GIP (Global Innovative Pharmaceutical) segment and the GVOC (Global Vaccines, Oncology & Consumer Healthcare) segment are innovative.
Last year, Pfizer tried to acquire AstraZeneca for $120 billion. However, the acquisition failed. It would have helped the company move its headquarters outside the US. This would move the company's tax base outside the US.
Pfizer (PFE), Merck & Co. (MRK), Johnson & Johnson (JNJ), and Gilead Sciences (GILD) form over 25% of the Vanguard Health Care ETF (VHT).