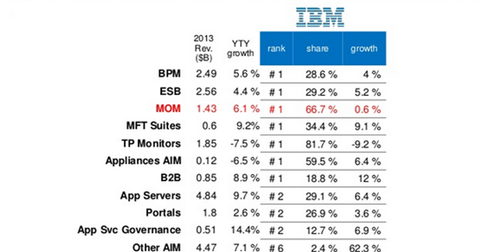 Could IBM Be on Its Way to Transformation?
By Anne Shields

Updated
IBM is the leader in the middleware and software market
According to Gartner, IBM (IBM) with a market cap of approximately $160 billion is a market leader in the middleware and software space. According to IBISWorld, "Middleware provides interoperability between disparate types of software, enabling the continued use of obsolete, legacy or unrelated software packages with modern software." According to its report in 2014, with a 30% market share, IBM has maintained this position throughout the past 13 years.
Among the 11 application infrastructures and middleware markets that Gartner studied, IBM was number one in eight of these markets, followed by Oracle with a market share of 15%. Microsoft (MSFT), SAP AG (SAP), and Tibco held 5%, 4%, and 3% market share, respectively.
Article continues below advertisement
IBM continues to retain its top position with a 67% market share in Message Oriented Middleware that is a key enabler for mobile computing. There is an increased demand to link together big data, mobile, cloud, and social computing technologies into core enterprise software systems. In business-to-business (or B2B) middleware, IBM is the leader that drives better collaboration among partners and clients. The company is also a leader in managed file transfer suites, a segment that is meant for secure, reliable delivery of data between people, processes, and systems.
To gain diversified exposure to IBM, you can invest in the Technology SPDR (XLK). XLK invests 3.51% of its holdings in IBM.
Strategic growth areas registered good growth
In fiscal year 2014, IBM's cloud revenues and cloud delivered as a service revenue stood at $7 billion and $3 billion, respectively. These revenues grew by 60% and 75% on a year-over-year basis, respectively. Business analytics saw its revenues increase by 7% on a year-over-year basis to $17 billion.
In the past 11 consecutive quarters, IBM's revenue has declined. The company has repeatedly stated that its focus now lies on strategic imperatives that consist of five businesses: cloud, data analytics, mobile, social, and security efforts.
In the March 2015 Morgan Stanley (MS) Technology, Media, and Telecom Conference, IBM's CFO, Martin Schroeter, stated that the company's strategic areas (big data, analytics, cloud mobile, and security) posted $25 billion of revenues or 27% of overall revenues, an increase of 16% on a year-over-year basis. By investing $4 billion in 2015, the company intends to increase the contribution of these areas to 44% of overall revenues by 2018.