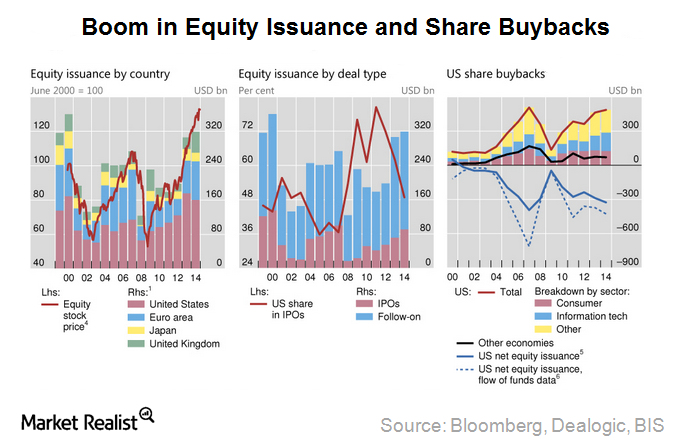 IBM Continues to Lure Its Investors with Share Buybacks
Share repurchases
In 4Q14, IBM (IBM) returned $1.2 billion to shareholders with $1.1 billion in dividends and $0.1 billion in share repurchases. In 2014, IBM purchased $13.68 billion in outstanding equity as compared to $13.86 billion in 2013. As of December 30, 2014, IBM had approximately $6.3 billion left remaining from the current share repurchase authorization. Share buybacks reduce the amount of shares outstanding, consequently increasing earnings per share (or EPS).

Article continues below advertisement
IBM lures investors with share buybacks
According to the BIS Quarterly Review from March 2015, since the mid-1980s, firms have tended to employ share buybacks over dividends to return cash to shareholders. Apart from tax advantages and protection against the risk of hostile takeovers, share buybacks imply that the firm is undervalued.
Share repurchases have now overtaken aggregate dividends as the main form of corporate payout in the United States. IT firms like Apple (AAPL), IBM, Cisco (CSCO), Oracle (ORCL), and Microsoft, accounted for around 30% of the entire share repurchases in the United States. The report also highlighted that share buyback booms in the US have usually coincided with the increase in net bond issuance, implying that the buybacks have been financed at least partially by debt or bonds. The below presentation shows that this trend of bond/debt issuance has moved in sync with the share buybacks in the US in the past.

To gain diversified exposure to IBM, you can invest in the Technology SPDR (XLK). XLK invests 3.51% of its holdings in IBM. As we have seen in the earlier part of the series, IBM has also taken on debt to fund its dividends and share buybacks.
IBM consistently increases dividend
Currently, IBM pays a dividend of $1.10 per quarter with a current yield of 2.7%. The dividend yield measures how much a company pays out in dividends each year in comparison to its share price. However, it remains to be seen how IBM is funding these dividends.
Looking at IBM's cash reserves and falling cash flows, it is clearly visible that the company is borrowing money to pay the dividends. Even if the dividends are paid from its cash holdings, it is not a very positive sign, as sooner or later the company's cash balance will be depleted. Usually, companies resort to this kind of financial plan to appeal to dividend-preferring investors.