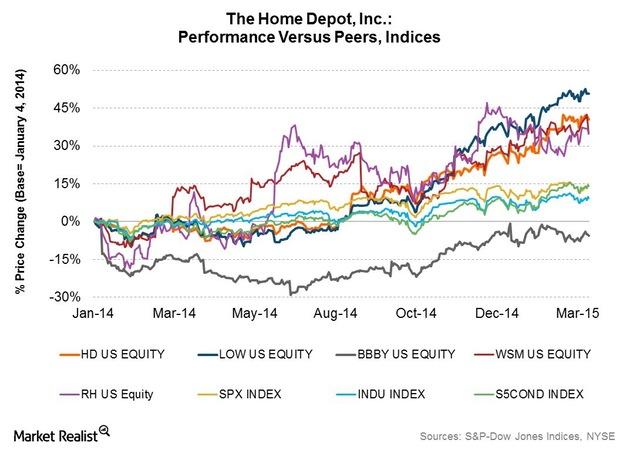 Home Depot: Strong Growth Outlook for 2016
By Phalguni Soni

Nov. 20 2020, Updated 12:30 p.m. ET
Home Depot's revenue targets this year
Home Depot's (HD) guidance for the current fiscal year—that is, fiscal 2016 ending January 31, 2016—projects top line growth of 3.5% to 4.7%. Based on this outlook, full-year revenues would range between $86.1 and $87.1 billion, up from $83.2 billion last year. HD's projecting comps sales growth of 3.3% to 4.5%, about 150 basis points above GDP (gross domestic product). It may, however, face headwinds due to the appreciating US dollar and weak US consumer spending in the first quarter.
Article continues below advertisement
Store count
As mentioned earlier, Home Depot isn't looking to scale up its retail footprint in the US. Nevertheless, it's planning to open six new stores overseas—five in Mexico and one in Canada.
In contrast, archrival Lowe's (LOW) is projecting revenue growth between 4.5% and 5.0%, and store comps between 4% and 4.5% this year. LOW is also planning to open 15 to 20 new stores.
Expense leverage
Home Depot is tightening costs. While it expects gross margins to be flat at ~34.8%, it's looking to increase its operating profit margin by 60 basis points, or 0.6%, to over 13% in fiscal 2016. Its operating margin came in at 12.6% last year, rising in line with the company's long-term profitability initiatives that we discussed in Part 11 of this series.
Meanwhile, the company may incur legal expenses due to the holiday data breach. The impact of this is likely to affect the company's expense outlook.
Article continues below advertisement
Returns
Home Depot expects its return on capital employed, or ROIC, to increase to 27% this year. Improving capital use is a part of HD's long-term plan. ROIC is up from 9.5% in fiscal 2009 to 24.9% in fiscal 2015. That's part of the reason the company is keen to deploy excess cash and raise debt to finance share buybacks.
Dividends and share buybacks
Home Depot projects a dividend per share of $2.36 per share, an increase of 25.5% over last year. It also plans to repurchase shares worth $4.5 billion as part of its new $18 billion share repurchase plan, announced in February. The company plans to use excess cash to fund dividends and repurchases.
Earnings
Home Depot projects growth in EPS (earnings per share) at about 8.5% to 10% year-over-year, to between $5.11 and $5.17 per share. The company also expects to generate cash flow of about $9 billion from the business. In contrast, rival Lowe's expects to grow EPS by about 21% this year to $3.29.
HD and LOW are part of several growth-oriented ETFs. Together, they constitute 2.1% and 2.3%, respectively, of the iShares Russell 1000 Growth ETF (IWF) and the iShares S&P 500 Growth ETF (IVW). Both IVW and IWF provide exposure to other growth stocks in the consumer sector including Constellation Brands (STZ), which makes up ~0.2% of both IVW and IWF.
To read more sector updates, visit Market Realist's Consumer and Retail page.