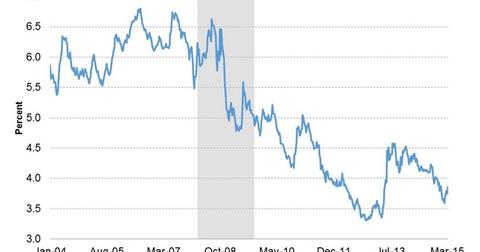 Home Depot Sales Influenced by Interest Rates
By Phalguni Soni

Apr. 9 2015, Updated 3:04 p.m. ET
Interest rates and home improvement retailers
The demand for housing (ITB) is highly dependent on interest rates. Mortgage rates bear a close relationship with Treasury yields, moving up and down with yield movements. The five-year, seven-year, and ten-year Treasury maturities are particularly relevant, as the durations for most mortgages tend to fall within these ranges.
Lower rates for home financing generally boost homebuying (ITB) (XHB) activity. And this benefits home improvement and specialty furniture and fittings retailers including Home Depot (HD) and its peers Lowe's (LOW), Williams-Sonoma (WSM), Bed Bath & Beyond (BBBY), and Restoration Hardware (RH). The reverse is also true.
Article continues below advertisement
Interest rate expectations
Due to the slower growth expectations we noted in Part 17 of this series, the outlook for a higher federal funds rate in 2015 was changed at the March Federal Open Market Committee, or FOMC. The Fed now expects slightly lower interest rate levels in 2015 than it did in its December guidance.
At the March FOMC meeting, the Fed also reiterated that it would continue reinvesting the proceeds from maturing agency-backed mortgage-backed securities and Treasuries. This should provide a relatively lower interest rate environment and provide support to fixed income and housing markets, as it has since the onset of the Great Recession.
How Home Depot benefits
The interest rate environment can prove a mixed blessing to the housing sector and home improvement retailers such as Home Depot. For although yields will rise, they'll do so at a slower pace than initially anticipated. It may also result in higher home sales and a rush for financing in the run-up to the liftoff.
The liftoff is likely to come after the Fed's April FOMC. The second quarter that ends in July is typically the highest-grossing quarter for Home Depot. The retailer earns about 29% of its annual revenues in that quarter. With the liftoff expected in 2H15, HD's sales in spring and summer may get a boost if homebuying activity increases.