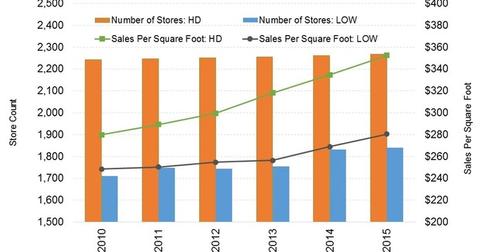 Home Depot: Remaining Relevant in the Bricks-And-Mortar Space
By Phalguni Soni

Updated
The big-box club
Home Depot (HD) earns over 95% of its revenues, ~$79 billion in fiscal 2015, from its bricks-and-mortar stores. The company had a worldwide store count of 2,269 at the end of fiscal 2015. Of these, 1,977, or over 87%, were located in the US.[1. Includes the Commonwealth of Puerto Rico, Guam, and the US Virgin Islands] The company also had 181 stores in Canada and 111 in Mexico.
Home Depot (HD) and archrival Lowe's (LOW) are what's termed big-box retailers. Due to the nature of their merchandise, the space requirement at these stores is considerable. At HD, the average store size approximates 104,000 square feet, for indoors products, and 24,000 square feet outdoors for garden products and supplies.
Article continues below advertisement
Store growth
Over the past few years, Home Depot's store count has been almost stagnant. The company is trying to limit the increase in store count. Net store count in the US has increased by just one over the past five years.
It's concentrating more on its omni-channel efforts in response to the rise of online retailers, changing customer preferences, and the greater flexibility and scope for customer service. This includes leveraging its network of bricks-and-mortar stores as an enabler of online sales. We'll discuss the company's omni-channel efforts in Part 9 of this series.
Store productivity
At the same time, Home Depot wants to boost productivity at stores (XRT) by localizing product assortment and investing more in data analytics, merchandizing, and inventory management. By doing so, it hopes to better gauge sales trends.
Sales per square foot rose from $280 in fiscal 2010 to $352 last year, a CAGR (compound annual growth rate) of 4.7%. That's double the productivity gains seen at archrival home improvement chain (XHB) (ITB) Lowe's (LOW). Lowe's has grown sales per square foot at a CAGR of 2.4% to $280 over the same period. That's partly due to higher discounting.
In comparison, specialty retailers like Williams-Sonoma (WSM) make over $1,200 per square foot in sales because of different business models and products.
If bricks-and-mortar stores are to remain relevant, a superior level of customer service is essential, as we'll see in Parts 4 and 5 of this series. HD store associates are trained to answer customer queries and stay motivated. The store already pays above-average wages for hourly associates. HD also ensures that ~60% of its store labor hours are dedicated toward customer-facing activities.