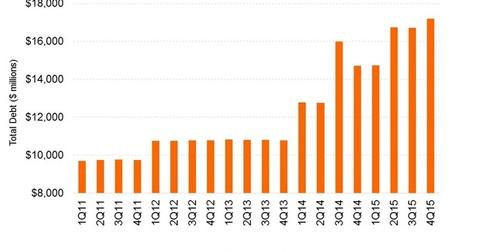 Home Depot Financials Stack Up Well Against Peers
By Phalguni Soni

Updated
Home Depot's debt profile
Home Depot (HD) has total debt in excess of $17 billion on its balance sheet. It's the most leveraged stock in its peer group, with a total debt-to-equity ratio of ~184%. In comparison, archrival and fellow home improvement (ITB) (XHB) retailer Lowe's (LOW) has a ratio of ~114%. Specialty retailers like Williams-Sonoma (WSM) and Bed Bath & Beyond (BBBY) have little or no debt at all on their balance sheets.
HD's total debt-to-equity ratio is above the average for Dow Jones Industrial Average (DIA) stocks, which is ~169%. As a Dow component, Home Depot constitutes ~4.1% of the portfolio holdings of the SPDR Dow Jones Industrial Average ETF (DIA).
Article continues below advertisement
Purpose of debt
Most of the company's debt, ~$16.9 billion, is long term. Debt levels have been increasing since fiscal 2011. The company has taken on more debt for general corporate purposes, primarily to retire older and costlier debt and finance its share repurchases. The low interest rate environment created by quantitative easing and the federal funds rate at near zero levels have made debt a cheaper source of funding.
Higher debt can have advantages and disadvantages. For one, interest on debt is tax deductible, which reduces taxes payable and directly benefits the bottom line. Second, debt financing is less costly than equity. This can magnify the returns earned by equity shareholders. Higher debt can also badly impact returns to shareholders if positive cash flow isn't forthcoming.
Credit ratings and free cash flow
Home Depot has generated progressively higher free cash flow, or FCF, since fiscal 2011. FCF came in at $6.8 billion in fiscal 2015, which ended February 1, 2015. Lowe's FCF was ~$4 billion. HD earned revenue of $83.2 billion, compared to Lowe's $56.2 billion.
HD had a total debt-to-EBITDA (earnings before interest, taxes, depreciation, and amortization) ratio of 1.4x at the end of fiscal 2015. It's EBITDA-to-interest-expense ratio was 14.8x. A high and increasing FCF trend, along with adequate coverage ratios, indicates healthy debt levels.
HD's long-term debt is rated at A2 by Moody's and A by Standard & Poor's. These ratings are a notch higher than Lowe's.