That was then; this is now
There are lots of differences between the stock market today and 15 years ago. Back at the peak in 2000, the S&P 500 Index traded at roughly 30 times trailing earnings, while the Nasdaq was fetching a sobering 175 times. Today, those figures are 18.5 and 31, respectively. That's not cheap, but certainly much less extreme. Valuations outside the United States look even more reasonable, as the MSCI All Country World Index ex-U.S. is trading at roughly 16 times trailing earnings.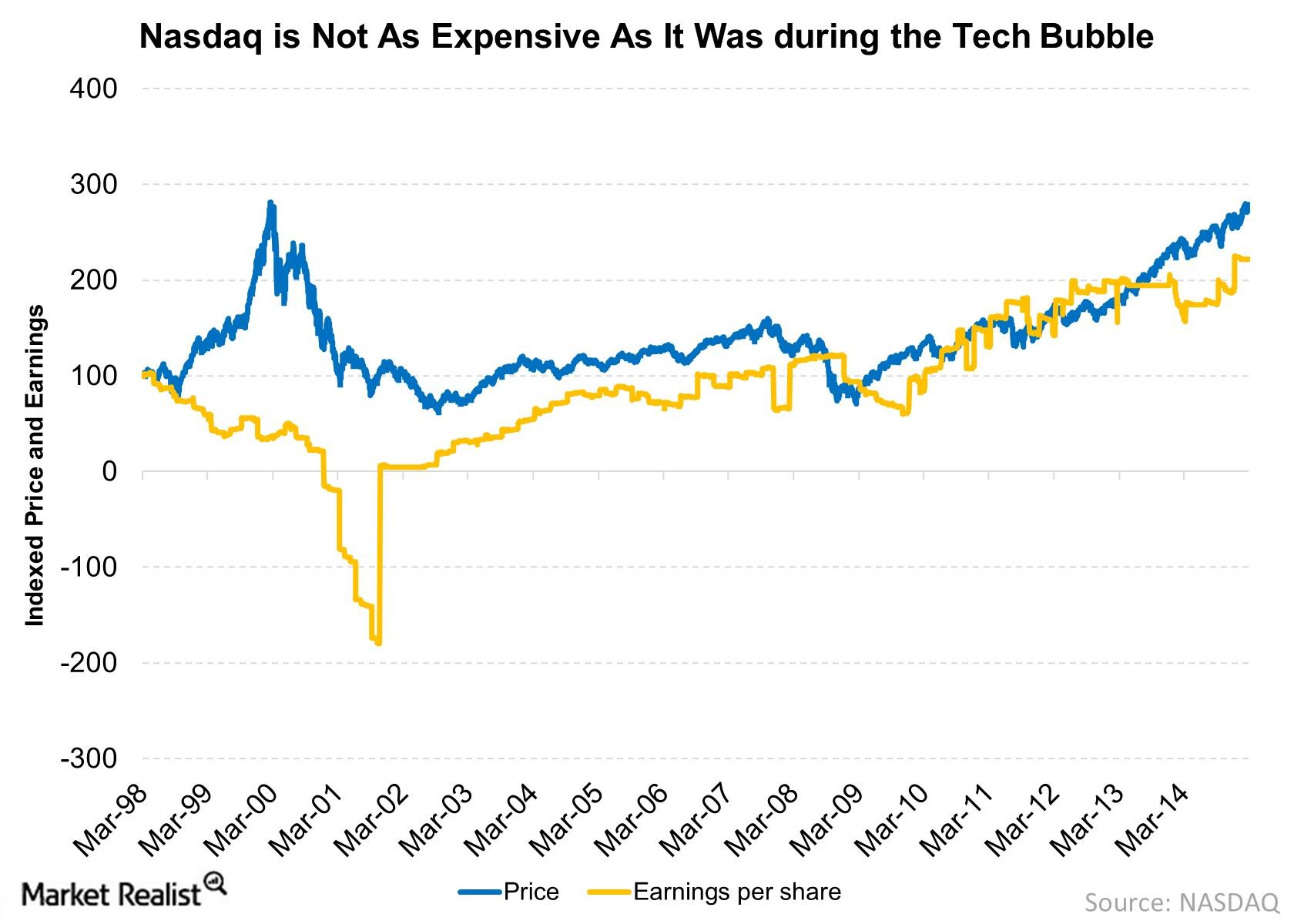 Article continues below advertisement
Market Realist – Hold on to tech stocks, despite high valuations
The above graph compares the price of the Nasdaq Composite Index (QQQ) to its earnings on an indexed basis (1995=100). Generally, if the price runs ahead of the earnings, it's expensive and usually cools down to catch up with the earnings. The opposite is also true.
In the long run, the price grows at the same pace as earnings. However, there are times when the price is well above earnings and remains so for a while. For example, in the late 1990s during the tech bubble, prices had a run-up to ludicrous levels. Stock markets plummeted and leveled with earnings.
At the moment, the price is running ahead of earnings, which is an indicator that the Nasdaq is on the expensive side.
However, mature tech stocks are looking good. Although the sector looks quite expensive from a price-to-earnings (or PE) ratio perspective, recent earnings and strong forecasts prove there's some more headroom left. Also, the sector is less expensive than most of the other sectors, including utilities (XLU).
Apple (AAPL), for example, reported $18 billion in profit, the highest ever for the company. Google (GOOGL) and Microsoft (MSFT) reported strong sales figures as well.
The dip in oil prices (USO), which acts like a tax-cut for consumers, is another tailwind for the sector. Since technology is a cyclical sector, it's poised to benefit as the economy improves.