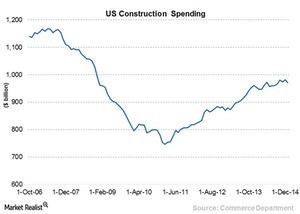 Higher Residential Construction Spending Keeps Sector Going
Components of construction spending
The United States Department of Commerce releases construction spending data every month. These mainly include expenses incurred on new structures and improvements to existing structures in the public and private sectors. Here are some examples of these costs:
labor
materials
architectural design
engineering work
contractor payments
overheads
interest and tax payments for the construction period
Article continues below advertisement
Decline in construction spending
The government data show that construction spending fell 1.1% to a seasonally adjusted annual rate of $971.4 billion in January compared to the previous month. This is still 1.75% above the level recorded one year ago, when construction spending stood at $954.6 billion.
Residential construction rises
Spending on private construction, which accounts for more than 71.8% of all construction spending, fell 0.5% in January to a seasonally adjusted annual rate of $697.6 billion. At a seasonally adjusted annual level of $351.7 billion, residential construction was 0.6% above December levels. Meanwhile, non-residential construction stood at $345.9 billion, or 1.6% below those levels.
These figures show that the construction of new single-family homes and apartments offset a decrease in commercial buildings, private schools, lodging, and other non-residential private projects.
The spending on public construction, which accounted for 28.2% of total construction spending, declined by 2.6% over the previous month to $273.8 billion. This is the lowest spending on public construction in the past five months.
Higher spending indicates economic revival
Over the course of 2014, spending on offices, power plants, factories, and hotels and motels climbed significantly, indicating broad economic growth. The solid gains in spending helped boost job growth in the construction industry, which added nearly 3 million jobs in 2014, the most since 1999.
Sustained growth in construction spending is often taken as a positive sign for homebuilding companies such as KB Homes (KBH), Standard Pacific (SPF), and Pulte Group (PHM). It's also positive for the SPDR S&P Homebuilders ETF (XHB) and the iShares U.S. Home Construction ETF (ITB).