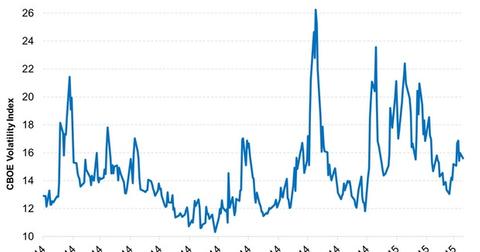 Why Higher Equity Volatility Will Support Bonds
By Rick Rieder

Updated
And remember, the Fed is not the only game in town. In fact, we think there are four major factors that will influence interest rates around the world: changing demographic trends, innovations in technology and energy, financial conditions as related to leverage, liquidity and cash flow, and monetary policy.
It's our view that volatility should increase as the world moves from the pervasively synchronized easy monetary policy that we've seen over the past several years to the policy divergence that is showing up today. At the same time, the continued lack of fixed income supply around the world, especially in longer-maturity debt, should continue to keep yields contained.
Article continues below advertisement
Market Realist – Higher equity volatility will support bonds going forward.
The CBOE volatility index, or VIX (VXX)(XIV), is often known as a "fear gauge." The higher the index, the more risky investors perceive the stock markets to be. The graph above shows the VIX since the start of 2014.
For most of 2014, the VIX remained low as the US economy was doing well. However, since October 2014, the index spiked on the back of softening global growth. This year, so far, the VIX has been generally higher than last year, as the graph above suggests. The average level for the whole of last year was 14.2. The average for this year so far is 16.7, which is closer to the long-term average of ~20.
Unexpectedly good earnings, especially in the technology space (QQQ), saw the S&P 500 (SPY) hit another all-time high of 2115. However, a stronger dollar (UUP), geopolitical issues—including Greece—and lofty valuations have been major headwinds for US equities. This has caused the increase in volatility this year.
Safe-haven assets like Treasuries (TLT) and gold (GLD) revel in volatile stock markets. With the stock markets poised for more volatility, these assets could gain. However, gold has a major headwind in the form of a stronger dollar and rising real rates.