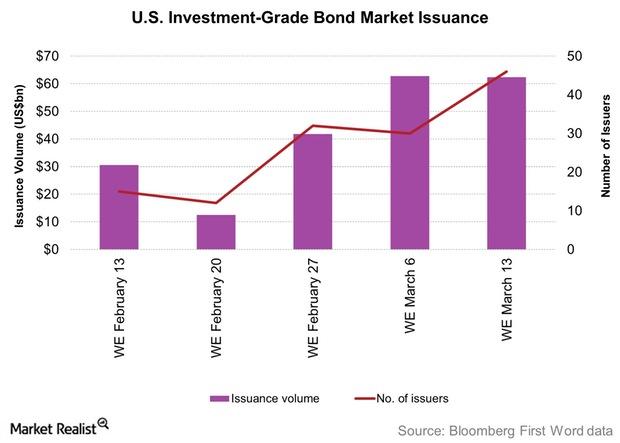 High-grade corporate bonds hit second-highest issuance of 2015
Deals and volumes for investment-grade bonds
Trends in the primary corporate bond market inform investors about the terms at which new debt is priced. They can help you assess how your investments are performing in terms of yield. They also help you assess the credit risks and spreads across sectors and help you decide whether you want to invest in an issue that's providing an attractive yield given its associated risks.
Corporate investment-grade borrowing marginally declined to $62.34 billion in the primary markets in the week to March 13, 2015. This was 0.7% lower than issuance worth $62.8 billion in the previous week. However, standing alone, it was the second-highest issuance in 2015 so far. The number of issuers rose to 46, up by 16 compared to the previous week.
Article continues below advertisement
Issuance has picked up in recent weeks as corporates are eager to raise debt while the interest rate environment remains favorable. The U.S. Federal Reserve is expected to raise the federal funds rate sometime in 2015. When it does, it will point to an increasing interest-rate environment where corporate issuers may be required to pay more interest to creditors. The rate-setting committee of the central bank is scheduled to meet on March 17–18, after which it will issue a statement that could hint at the possibility of a rate hike.
A step toward rate hike could begin with merely a change of language in the statement. This may negatively impact Treasuries due to an increase in yields, which will push prices lower and hurt investors in ETFs such as the iShares Barclays 20+ Year Treasury Bond Fund (TLT) and the iShares Barclays 7–10 Year Treasury Bond Fund (IEF).
Actavis plc (ACT) was the largest issue in the week to March 6 and the second highest on record. However, there was no single-issuer issuance that high last week. Zimmer Holdings (ZMH), The J.M. Smucker Company (SJM), ING Groep N.V. (ING), and Barclays PLC (BCS) were among the large issuers last week.
Issuance by quality and maturity
Most issues were fixed-rate. They accounted for 96.4% of the week's issuance. BBB-rated issuers were the most prolific. They made up 51.6%, or $32.15 billion, in issuance. They were followed by A and AAA rated borrowers, which formed 28.8% and 11.6% of the week's issuance, respectively.
In terms of maturity, the largest chunk of issuance, which made up 31.1% of all issues, was in the ten-year maturity category. This category saw the second highest issues in the previous week.
The ten-year maturity category was followed up by the three-year maturity category, which saw 21.0% of the issues. There was no issuance of >30 year maturity bonds. However, perpetuals made up 7.9% of the issuance quantum after having no issuances in the previous week.
In the next part of this series, we'll highlight the major deals, including pricing, quality, and yields.