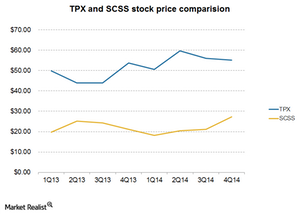 H Partners tackles Tempur Sealy's stock underperformance
By Adam Rogers

Mar. 10 2015, Updated 4:06 p.m. ET
H Partners' scathing letter to Tempur Sealy
On February 17, 2015, H Partners Management LLC sent a letter to Tempur Sealy International Inc. (TPX). In the letter, H Partners outlined major issues Tempur Sealy faces and demanded a replacement of CEO (chief executive officer) Mark Sarvary.
The fund's 13D filing noted that it wants to address significant concerns about TPX's "lack of strategic direction, poor operational execution, contracting margins, and stock underperformance."
H Partners is demanding a CEO change, but it's also seeking "the immediate resignation of directors P. Andrews McLane of TA Associates and Christopher Masto of Friedman Fleischer & Lowe, both of whose private equity firms exited their investments many years ago."
TPX responded by saying it was, "disappointed to see that H Partners has chosen a public forum to advance an agenda that appears to be nothing more than baseless personal attacks and self-promotion."
Article continues below advertisement
H Partners points to declining TPX operating margins
H Partners is pressuring Tempur Sealy to revamp its board of directors since it doesn't include any shareholder representatives. H Partners is also raising concerns about TPX's operational inefficiency.
H Partners believes Tempur Sealy's stock has lagged behind its peers in the industry. It said that compared to its industry peers, TPX has underperformed by more than 75% over the last three years. It has underperformed by 93% compared to the S&P 500 Index.
The price of TPX stock has increased from $49.82 after the first quarter of 2013 to $55.18 after the company declared its 4Q14 results. This is a return of 10.75% over two years. In contrast, the share price of Select Comfort (SCSS), Tempur Sealy's top rival, has increased from $19.68 after 1Q13 to $27.19 in January 2015. SCSS has thus generated returns of 38.16% for its shareholders over the last two years.
Article continues below advertisement
Stock prices for peer Mohawk Industries (MHK) have given returns of 38.43% in the last two years. Mattress Firm Holding Corp. (MFRM) has given returns of 52% in the same period. MHK is also listed on the SPDR S&P Homebuilders ETF (XHB) with an exposure of 3.36%. This ETF tracks the overall performance of 37 publicly listed companies in the real estate sector.
H Partners questions CEO's leadership abilities
Tempur-Pedic hired Mark Sarvary as its CEO in 2008 before Tempur-Pedic merged with Sealy. That year, Tempur-Pedic had two manufacturing facilities in North America and one in Europe with a total of 1,200 employees.
After the merger with Sealy, the company became larger and more complex to operate with 28 manufacturing facilities and more than 7,000 employees.
H Partners believes that as Tempur Sealy (TPX) continues to expand, Sarvary won't be capable of leading such a large, complex firm in a competitive environment.
In the next article in this series, we'll take a look at Tempur Sealy International's businesses.