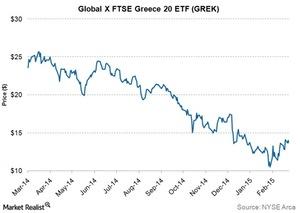 Greece still in the headlines, this time a bailout extension
By Surbhi Jain

Updated
Time for a Greece update
Market Realist has been following the political and debt crises in Greece for a while. Read the following series to get a background on what's been going on in Greece:
Greece has been in the headlines for quite a while. Instability surrounding its economic, political, and social situations has always gathered interest. Interest is usually strong from the Greek and European population, social media, world political leaders, academicians, and, most importantly, investors in the area.
Article continues below advertisement
Greece and the Eurozone
Greece is part of the Eurozone, the 19-member monetary union whose members have adopted a single currency, the euro. It is primarily for this reason that any major change or event in Greece has a direct impact on other Eurozone economies such as Germany, Portugal, Italy, Ireland, and France.
The interconnection among these economies is obvious when Greece makes the headlines. We see increased volatility in Eurozone-tracking ETFs such as the iShares MSCI EMU Index Fund (EZU), the Vanguard FTSE Europe ETF (VGK), the iShares MSCI Germany Index Fund (EWG), the Wisdomtree International Hedged Equity Fund (HEDJ), and the SPDR DJ EURO STOXX 50 ETF (FEZ).
Bailout extension in Greece impacts the Eurozone
Among the Eurozone ETFs, the FTSE Greece 20 ETF (GREK), which tracks broad-based equity market performance in Greece, is one of the funds affected most by any material event in Greece.
The GREK has currently invested up to 7.5% of its portfolio in equities of the National Bank of Greece (NBG) and another 11.5% in Coca-Cola HBC AG (CCHBF). CCHBF is partly owned by The Coca-Cola Company (KO). The Coco-Cola Company's key competitor, PepsiCo, Inc. (PEP), also operates in Greece through its subsidiary Tasty Foods S.A.
We've been analyzing the impact of material events in Greece on your investments in the area and in the Eurozone for some time now. In this series, we'll explore Greece's recent bailout extension granted by Eurozone ministers to see how it could impact your investments in the Eurozone.
Let's first take a look at market reaction to the bailout extension plea and approval in Greece. We'll see how these events could impact your investments in Greece and the Eurozone at large.