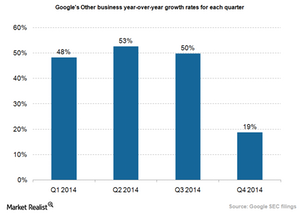 Google's Other Business: Growth Slows in the Last Quarter
By Puneet Sikka

Apr. 2 2015, Updated 10:06 a.m. ET
Google's other businesses
Previously in our series, we reviewed business growth on Google's own websites and on its Network websites. Another Google (GOOG) segment, the "Other" segment, consists of its non-advertising businesses including Google Play, Google For Work—for enterprises—and its hardware business. In 4Q14, this segment grew at a year-over-year rate of only 19%. As the chart below shows, investors had been used to seeing growth rates in this segment of around 50% in the past.
Google blames the slow growth on currency issues and the continued challenges that it's facing in the hardware business. For more on currency issues, consult Part 2 of this series.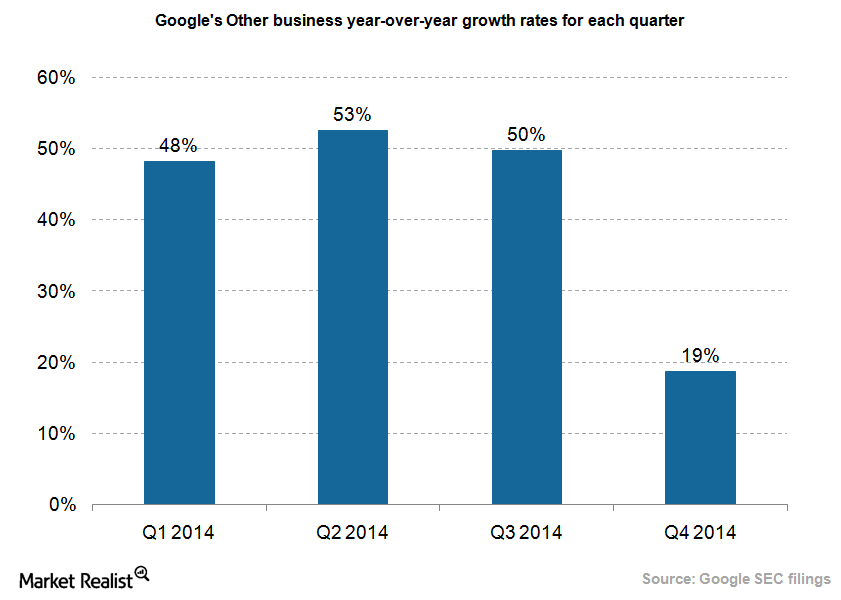 Article continues below advertisement
According to the company, Google Play is seeing relatively slower growth in developed markets such as the US and the UK. In the rest of the world, especially in emerging markets (EEM), growth is comparatively faster. This means Google Play's currency issues are exacerbated by its high exposure to international markets.
Competitive issues also impact Google Play growth
Although currency played its role in slowing down growth in Google's Other segment, competitive issues had a part in it as well. For example, Apple (AAPL) continues to beat out Google with its App Store revenues, despite the fact that Android dominates the smartphone operating system market.
Higher market share has encouraged developers to develop more apps for Google Play than for the App Store. According to a report from appFigures, Google Play had about 1.4 million apps in 2014, while Apple's App Store about 1.2 million apps. Amazon (AMZN) placed third with about 300,000 apps.
Amazon's app store growth prompted BlackBerry (BBRY) to partner with Amazon because BlackBerry's own store has fewer apps. For more on this partnership, read Partnership with Amazon is important for BlackBerry.
A few months ago, Apple released a press release announcing a record-breaking 2014 for App Store sales. App Store billings rose by 50% and apps generated over $10 billion in revenues for developers. Clearly, Google is lagging behind Apple in this business.