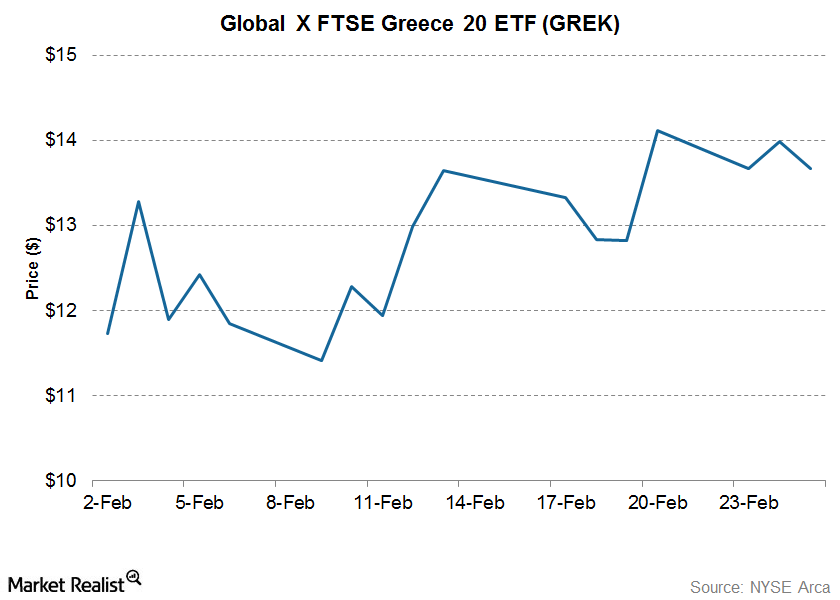 Gold sinks on Greek bailout extension
By Anuradha Garg

Nov. 20 2020, Updated 3:00 p.m. ET
Why a bailout?
After two bailouts, one in 2010 and another in 2011, Greece is still facing a gigantic 240 billion euro ($269 billion) debt. Among its creditors is an entity known as the "troika." The troika is made up of the European Union, or EU, the European Central Bank, or ECB, and the International Monetary Fund, or IMF. Under the terms of its bailout agreement with the troika, Greece must begin making debt repayments this year.
But with a large chunk of that amount becoming due in March, cash-strung Greece recently had no choice but to ask the troika for an extension of its bailout loan.
Article continues below advertisement
Agreement on bailout extension
Gold fell on Friday, February 20, after Euro ministers and Greek officials reached an agreement to extend heavily indebted Greece's financial rescue by four months, according to reports by Reuters. This agreement eliminates the immediate risk that Greece will run out of money and be forced out of the single currency Eurozone. It also gives Greece's new government a bit of breathing space to try and negotiate longer-term debt relief with its official creditors.
Agreement on the Greek bailout extension sent gold reeling to under $1,200 per ounce. Gold had been rallying earlier in January on rumors that Greece might have to exit the Eurozone. But with a fresh lease on life—at least for four months—Greek stocks have seen some gains. Meanwhile, safe-haven assets like gold are down.
Article continues below advertisement
Uncertainty lingers
Though this deal ensures that Greece will avoid bankruptcy for another four months, there's still high uncertainty about Greece's ability to find the money it will need to cover the repayments coming due.
The IMF, one of the institutions that will ultimately decide the terms of Greece's bailout, has said that proposals from Athens "are not conveying clear assurances that the Government intends to undertake the reforms envisaged in Memorandum of Economic and Financial Policies." So Greece's long-term fate is still quite unclear.
The uncertainty and the fear in global markets, particularly Europe, is what's driving gold prices at the moment. So investors should keep a keen eye on the Eurozone and any developments on this front.
If Greece does something to increase the risk of its being ousted from the Eurozone, it will be positive for gold prices (GLD) and gold stocks, including Goldcorp (GG), Agnico Eagle Mines (AEM), and Yamana Gold (AUY). The VanEck Vectors Gold Miners ETF (GDX) invests in these stocks. GG, AEM, and AUY form 19.1% of GDX's holdings.
For more about the Greek bailout and implications for investors, check out our Global funds page.