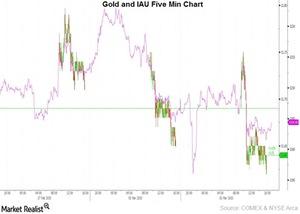 Gold prices fall on the rising US dollar
By Gordon Kristopher

Mar. 4 2015, Published 8:55 a.m. ET
Gold price declines
Gold April futures closed at $1,203.40 per ounce on Tuesday, March 2, 2015. They tested lows on February 27 and March 2. This is the sixth down day in the last ten trading sessions. The average down days have been 0.10% fewer than the up days over the last ten days.
Article continues below advertisement
April gold futures close near the day's low
Gold futures trading on the COMEX closed near the day's low—down by 0.31% on March 2, 2015. The traded volume for gold futures was at 146,585 contracts for the day. Volume accelerated by 13,485 contracts from the previous day. Gold prices are trading almost 37% lower than they were in August 2011. The drop in gold prices was due to the strong US dollar, the improving US economy, and weak demand for gold.
The decline in gold prices in February 2015 was also due to the strong dollar against a basket of international currencies and the strong US economy. Gold futures declined on March 3, 2015, due to the strengthening greenback and sluggish demand. India could boost short-term demand for gold, as the country's finance ministry maintained a 10% import duty on gold on February 28. Gold traders slowed their buying activity in expectation of a tax decrease. However, festival seasons and marriage ceremonies should increase gold buying activity, as per Indian gold industry estimates.
Lower gold prices affect the margins of gold ETFs like the VanEck Vectors Gold Miners ETF (GDX) and the iShares Gold Trust (IAU). They also affect gold stocks—like Goldcorp (GG), Newmont Mining (NEM), and Barrick Gold (ABX). These stocks make up 10.64%, 6.83%, and 8.10% of GDX, respectively.