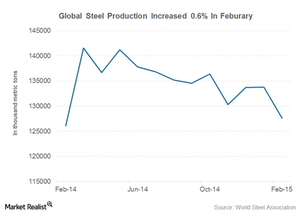 Global Steel Production Increased 0.6% in February
Global steel production
The World Steel Association recently released global steel production data for February 2015. This is a key indicator for investors in steel companies like Gerdau S.A. (GGB), Companhia Siderurgica Nacional (SID), Timken Steel (TMST), and Worthington Industries (WOR).
The SPDR S&P Metals and Mining ETF (XME) has ~35% exposure to steel plays. XME could offer an alternate way to gain exposure to the steel industry for investors who wish to avoid the work and risk of picking individual stocks.
Article continues below advertisement
Steel production rises
The above chart shows the trend in global steel production. As you can see, steel production in February 2015 increased 0.6% on a year-over-year (or YoY) basis. Steel production had previously dropped 2.9% in January.
Looking at the first two months of 2015, steel production has declined by 1.3% on a YoY basis.
Capacity utilization ratio
The capacity utilization ratio in the global steel industry was 73.4% in February 2015. In contrast, this ratio stood at 75.1% in February 2014. A lower capacity utilization is a negative sign for the global steel industry. With a low capacity utilization rate, competition between existing industry players increases. This puts pressure on steel prices as producers try to increase their sales to reach optimal capacity utilization rates.
Running the plants at less-than-optimal capacities also increases the unit cost of production. According to analysts, the steel companies' profitability becomes negatively impacted if plants operate at less than an 80% utilization rate.
The global steel industry is clearly divided between China and rest of the world. In the next article, we will analyze the latest trends in China's steel production.