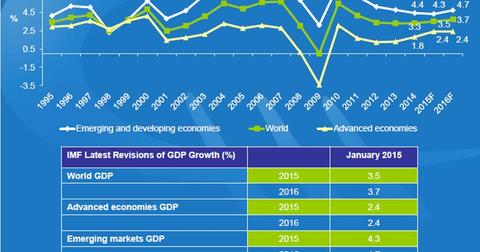 Global growth may drive the shipping industry higher
By Katie Dale

Updated
Global growth levels
Navios Maritime Holdings' (NM) management noted that in the 13 years since China joined the World Trade Organization, dry bulk trade recorded a CAGR (compound annual growth rate) of 5.4%.
For 2015, global dry bulk trade is estimated to grow ~4%. The ton mile growth is estimated at 5%. The world's GDP (gross domestic product) is still driven by developing economies. Now, developing economies contribute a higher percentage of total world growth than the developed economies. They representover half of the global consumption of most commodities.
The IMF (International Monetary Fund) projected global GDP growth for 2015 and 2016 at 3.5% and 3.7%, respectively. The growth will be led by emerging and developing markets' growth of 4.3% in 2015 and 4.7% in 2016.
Article continues below advertisement
Shipping industry
History reveals that increases in world GDP growth generally led to increases in marine transportation rates. Navios Maritime Holdings' CEO, Angeliki Frangou, commented that world GDP growth is expected to be higher in 2015 than it was in 2014. If the past patterns continue, it would lead to improved rates—like the rates that were experienced after the oil price collapse during the mid-1980s.
Since June 2014, crude oil prices fell 50%. This sharp price drop provides an opportunity for major economies to restock natural resources at relatively little cost. It also serves as a catalyst to stimulate GDP growth.
Broader economy benefits would also benefit shipping companies like Diana Shipping (DSX), DryShips (DRYS), Safe Bulkers (SB), and Navios Maritime Partners LP (NMM). These companies recorded 7.7%, 38.7%, 33.9%, and 13.9% revenue growth, respectively, in the past year. The oil price dipped ~60% since June 2014.
The iShares S&P 500 Index ETF (IVV) seeks investment results that correspond generally to the price and yield performance of the S&P 500 Index.