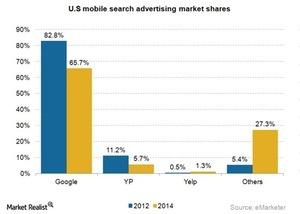 Gemini Is Becoming a Valuable Business for Yahoo
By Patricia Garner

Apr. 6 2015, Updated 8:07 p.m. ET
Gemini is becoming a valuable business for Yahoo
Yahoo Gemini is a marketplace that combines mobile search and native advertising, helping advertisers manage and optimize their ads. Gemini native ads sold through Yahoo Ad Management Plus gained momentum in the third quarter.
During the fourth quarter earnings call, Yahoo's (YHOO) management said that Gemini's performance exceeded the company's expectations in Q4. At the end of Q3, Gemini generated $250 million of revenue and it closed the year with about $300 million in revenue. Growth in revenue was because of improvement in price per ad, which was driven by targeting improvements.
Article continues below advertisement
Yahoo devised ways to improve Gemini ads
Yahoo believes that if it improves the targeting of Gemini ads, it can reap greater revenues for the company, as Gemini ads are priced on a cost-per-click (or CPC) basis. The more personalized these ads are, the more clicks they get, which results in better revenue. These improved ads will then perform better for both advertisers as well as the company in terms of revenue.
Yahoo has been adding various image ads, product ads, and video ads to Gemini inventory in addition to text ads. Audiences have responded well to these new ad formats.
Yahoo's management believes that the company needs to expand the distribution of Gemini ads beyond Yahoo sites and Tumblr to other sites with the help of Flurry as a distribution channel. The company is looking forward to integrating Gemini into the Flurry Software Development Kit (or SDK). This way, when a developer brings a new app to the market, Yahoo can easily provide a readily available ad network to the developer to monetize the app.
This is an easy way for Yahoo to distribute more Gemini ads as well as BrightRoll video ads.
Yahoo is trying to become an important player in the mobile search market
According to a report from eMarketer and as the above chart shows, Google (GOOG) still dominates this market despite losing market share to other mobile apps. Searching directly through an app is much more convenient for users, which explains why apps are seeing increasing usage for search purposes.
The report also mentioned that other mobile apps, such as Microsoft (MSFT) Bing, Yahoo, Amazon (AMZN), Kayak, Indeed, and Shazam are increasingly popular search options. Yelp is another notable player that has become important in the mobile search market, as it competes with millions of other mobile apps.
Investors can gain portfolio exposure to Amazon, Microsoft, and Google by considering the PowerShares QQQ Trust, Series 1 ETF (QQQ). All of these companies together have an 18% weight in QQQ.