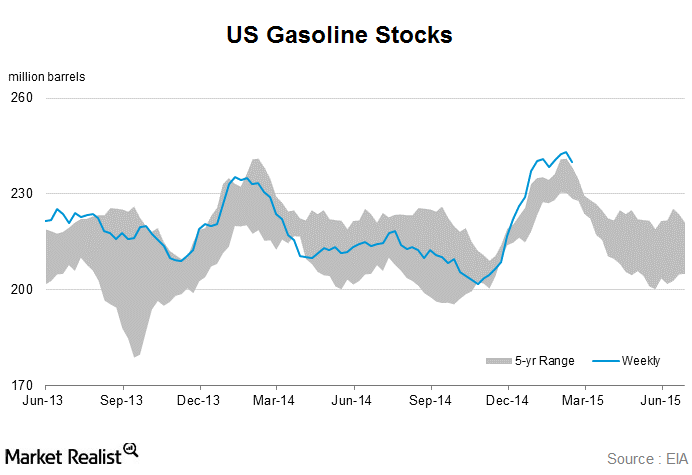 Gasoline inventories decreased due to production and demand
By Keisha Bandz

Mar. 9 2015, Updated 9:05 a.m. ET
Gasoline inventories
Gasoline is an important fuel. It's used for transportation. Gasoline requires refined crude for processing.
Previously in this series, we discussed how a crude inventory build is bearish for crude prices. Likewise, an inventory draw would be bullish for crude prices. The same logic holds true for gasoline inventories and gasoline prices.
So, crude inventories are impacted by refinery inputs. In turn, they're determined by the demand for refined products—gasoline and distillates.
Therefore, energy investors watch gasoline inventories closely. Gasoline inventories provide a handy snapshot of gasoline demand and supply trends.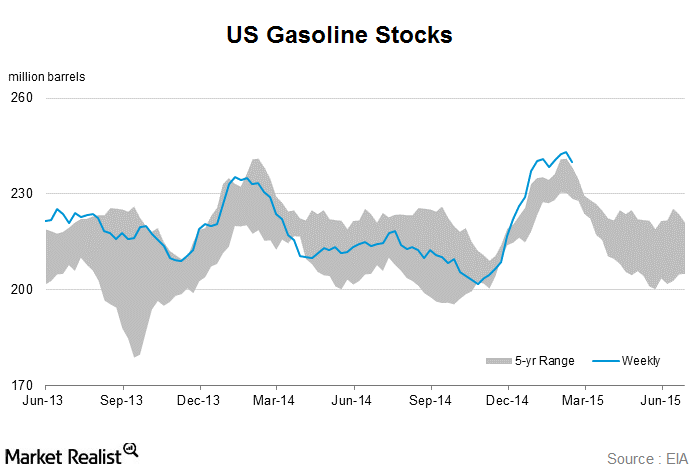 Last week, gasoline inventories decreased by 3.1 million barrels, or MMbbls, to 240 MMbbls. Analysts' expectations pegged inventories to decline by 2 MMbbls. However, as the graph above notes, gasoline inventories are still outside the five-year range, despite the decline.
Article continues below advertisement
Factors that led to the inventory draw
The inventory draw was impacted by gasoline production and demand.
Gasoline production increased from ~9.2 million barrels per day, or MMbbls/d, to ~9.7 MMbbls/d last week. According to the EIA (U.S. Energy Information Administration), the gasoline products supplied averaged over 8.6 MMbbls/d over the last four weeks. This was 3.3% higher—compared to same period last year.
Gasoline demand increased from ~8.8 MMbbls/d to ~8.9 MMbbls/d last week.
Inventories declined despite an increase in production. Production increased significantly—compared to the increase in demand. Therefore, net changes in exports also likely contributed to the inventory draw.
An inventory draw is bullish for gasoline prices. It's positive for refineries' margins—like Valero Energy (VLO), Phillips 66 (PSX), Marathon Energy (MPC), and Tesoro Corp. (TSO). Most of these companies are part of the Energy Select Sector SPDR ETF (XLE). All of these companies account for ~9% of XLE.
Outlook for gasoline
After falling crude prices and rising crude inventories, the EIA's February STEO (Short-Term Energy Outlook) reported that US weekly regular gasoline retail prices fell to an average of $2.04 per gallon on January 26. This is the lowest weekly price since April 6, 2009.
Although gasoline prices increased since then, the EIA expects US regular gasoline retail prices will average $2.33 per gallon in 2015—compared to the average of $3.36 per gallon in 2014. At these lower prices, gasoline consumption is slated to increase by 80,000 barrels per day, or bpd, to 9 MMbbls/d in 2015. In 2014, the EIA estimated that gasoline consumption was 8.92 MMbbls/d.
In the next part of this series, we'll discuss the changes in distillate inventories last week.