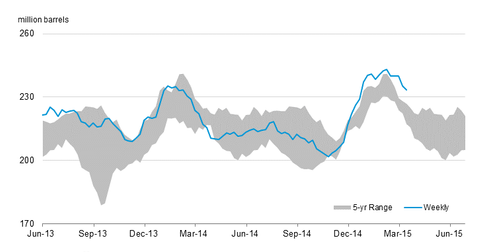 Gasoline Inventories Decline, Remaining Outside the 5-Year Range
By Keisha Bandz

Updated
Gasoline inventories
Crude inventories are affected by refinery inputs, which in turn are determined by demand for refined products—gasoline and distillates. Gasoline is a major refined product of crude oil and it's an important fuel that's mostly used for transportation.
Therefore energy investors watch gasoline inventories closely. Gasoline inventories provide a handy snapshot of gasoline demand and supply trends.
Last week, gasoline inventories decreased by 2 million barrels to 233.4 MMbbls. Analysts' expectations had pegged inventories to decline by 2.3 million barrels.
Inventory movements affect refineries' margins—like Valero Energy (VLO), Phillips 66 (PSX), Marathon Energy (MPC), and Tesoro. (TSO). When gasoline inventories fall, they're bullish for gasoline prices, which is a positive for refiners. The opposite is true when inventories rise.
These companies are part of the Energy Select Sector SPDR ETF (XLE). All these companies make up ~10% of this energy ETF.
The graph above shows that gasoline inventories are still outside their five-year range despite the decline.
Article continues below advertisement
Factors that affected inventories
Gasoline production decreased from ~9.75 million barrels per day, or MMbbls/d, to ~9.02 MMbbls/d last week. According to the EIA (US Energy Information Administration), total gasoline products supplied averaged over 8.8 MMbbls/d over the last four weeks. This was 0.4% higher than in the corresponding period last year.
Gasoline demand decreased from ~9.26 MMbbls/d to ~8.61 MMbbls/d this week.
While both production and demand saw significant decreases last week, a decrease in production seems to have had a more pronounced effect on inventories than changes in demand, which resulted in the inventory decline. Inventories are also affected by net changes in trade flows.
Outlook for gasoline
Following falling crude oil prices and rising crude oil inventories, US weekly regular gasoline retail prices fell to an average of $2.04 per gallon on January 26—the lowest weekly price since April 6, 2009. However, since crude oil prices have risen comparatively, and following outages at West Coast refineries, gasoline prices rose to ~$2.46 per gallon as of March 23.
The EIA's latest "Short Term Energy Outlook" (or STEO) for March reported that US regular gasoline retail prices will average $2.39 per gallon in 2015 compared to 2014's average of $3.36 per gallon. At these lower prices, gasoline consumption is slated to increase by 70,000 barrels per day—a 0.8% increase over 2014's consumption.
In the next part of this series, we'll discuss changes in distillate inventories last week.