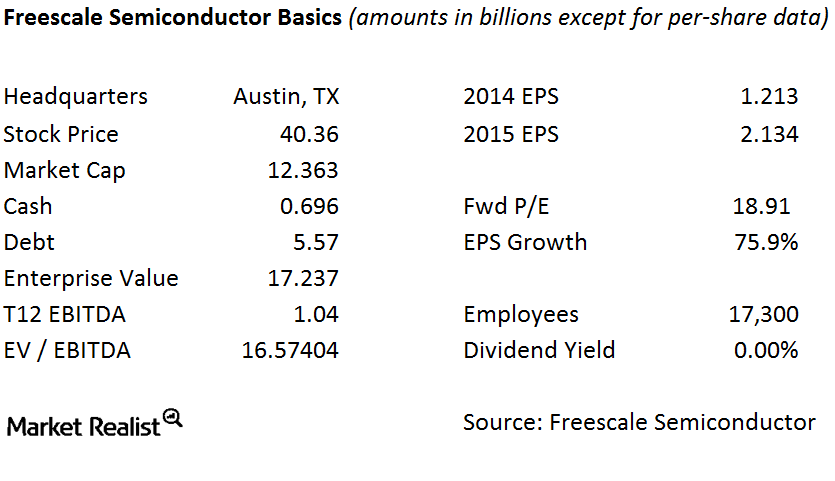 The Freescale–NXP Merger: Freescale at a glance
Freescale Semiconductors
Freescale Semiconductor (FSL) is a global leader in microcontrollers and digital networking processors, commonly referred to as embedded processors. Embedded processors are the backbone of electronic systems, providing essential control, intelligence and security, while enhancing performance and power efficiency. A number of trends are driving growth in this area:
advances in automotive safety and electronics
the introduction of cloud computing
the emergence of low-power, energy-efficient control devices
the build-out of next generation communications infrastructure
the Internet of Things, or IoT
The IoT is an emerging network of smart devices designed to help make our lives safer and more productive.
Freescale targets four distinct markets.
Article continues below advertisement
Automotive market
The global automotive market consists of products like advanced driver assistance systems, infotainment—information, convenience, and connectivity—and electrified powertrain, or hybrid and electric vehicles.
Networking market
The networking market is driven by demand for digital content, access, security, and advanced video communications. These factors have driven greater adoption of both mobile and fixed Internet services and smart devices, cloud computing environments, Internet Protocol television, and online gaming.
Article continues below advertisement
Industrial market
The industrial market is comprised of a wide variety of diverse sub-markets such as IoT connectivity, portable medical devices, home and building automation, smart energy, smart meters, robotics, and consumer white goods. Secure IoT connectivity allows a device, such as a sensor or a meter, to capture an event and turn it into meaningful information or action.
Consumer market
Growth in the consumer market is driven by the demand for content that is consumed on a variety of mobile devices, gaming equipment, and consumer wearables, such as cameras and fitness devices. Microcontrollers address the needs of these consumer devices as they continue to get smaller, more networked, and more power efficient.
The Freescale–NXP merger is driven by the complementary offerings of Freescale and NXP Semiconductors (NXPI).
Other merger arbitrage resources
Other important merger spreads include the Hospira–Pfizer deal. The Hospira (HSP) and Pfizer (PFE) merger is also set to close in 2H15. For a primer on risk arbitrage investing, read Merger arbitrage must-knows: A key guide for investors.
Investors who are interested in trading in the semiconductor sector should look at the VanEck Vectors Semiconductor ETF (SMH).