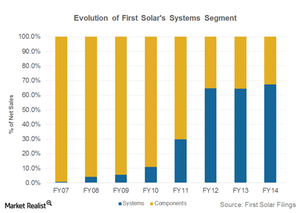 First Solar's operations: A quick investor overview
By Mike Sonnenberg

Updated
First Solar
In the first part of this series, we looked at a brief history of First Solar Inc. (FSLR). Headquartered in Tempe, Arizona, First Solar (FSLR) operates under two business segments:
Components segment
Systems segment
Article continues below advertisement
The Components segment
Under the Components segment, the company designs, manufactures, and sells solar (TAN) photovoltaic (or PV) modules. The company is the world leader in thin-film technology. Unlike crystalline silicon PVs—which we explain in the next part—First Solar's thin-film PVs use cadmium telluride (or CdTe) as a semiconductor material. What does this mean? First Solar has achieved competitive efficiency versus conventional PVs by using just 1–2% silicon. The company achieved a record-breaking 17% efficiency on thin-film panels in March 2014. Efficiency is measured in generation as a percentage of cell capacity.
First Solar has manufacturing facilities in Perrysburg, Ohio and Kulim, Malaysia.
The company recently entered into the crystalline silicon PV market. Yingli Green Energy (YGE) and Trina Solar (TSL) also manufacture crystalline silicon modules.
The Systems segment
Under the Systems segment, First Solar provides a host of services—such as solar power plant design, construction services, and plant maintenance as well as financing services. The segment primarily uses panels manufactured by the Components segment and builds solar power plants for utilities, independent power producers, industrial customers, et cetera.
The company also owns and operates some solar power plants. To date, First Solar has installed over 10 gigawatts (or GW) of solar panels, including the recently commissioned Topaz Solar Farm in California with a capacity of 550 megawatts—the world's largest solar farm. SunEdison (SUNE) also designs and develops solar power plants.