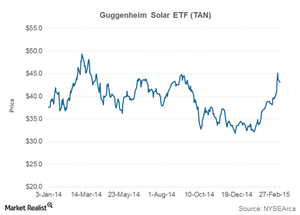 First Solar has plenty of room to grow—but will it grow?
By Mike Sonnenberg

Updated
A solid company
It's a leader in utility-scale solar power plant building. It's a leader in thin-film CdTe module technology. It's constantly innovating and investing in efficiency gains. It's joining hands with a competitor for its own benefits. It boasts financial strength and more.
There's certainly a lot that's positive to talk about when it comes to First Solar (FSLR), as we've discussed in detail in the previous parts of this series. Overall, First Solar looks to be a solid company on both operational and financial fronts.
Article continues below advertisement
Spreading its wings
Moreover, First Solar (FSLR) has shown its intent to change according to changing market conditions—a good and rare trait for companies in a leadership position.
First, the company started moving out of its comfort zone in 2013 (read: the US market) by acquiring Solar Chile, a Chilean utility-scale solar power plant developer with a pipeline of 1 GW. Recently, First Solar committed 5 GW of capacity in India, another fast-growing market for solar PVs.
While First Solar is the market leader in thin-film technology, it entered into high-efficiency crystalline silicon PV manufacturing in late 2014 to expand its product portfolio. SunPower (SPWR), Yingli Green Energy (YGE), and Trina Solar (TSL) are some of the key manufacturers of crystalline silicon PVs.
Plenty of room
Solar power (TAN) is a relatively a new phenomenon for some new markets (Latin America, Australia, and India) that the company is expanding in. This offers the company some potential to continue growing if policies in these markets remain favorable and if solar PVs remain cost-effective.
The company has around 4.3 GW in annual production capacity (including 1.3 GW in suspended capacity in Germany) for PV modules—more than twice the current production levels. In short, there's plenty of room for First Solar to grow with few incremental capital expenditure requirements.